ERHS Counseling Partnering with Central Counseling Services
The ERHS Counseling Team is partnering with Central Counseling Services (CSS) starting in October 2022 to provide on-campus counseling for students along with family therapy.  As listed in the ERHS CSS flyer, teens are more likely to learn better while they feel good about themselves and their relationships, whether they be romantic or platonic.
It's important for schools to have good counseling services to help students allow themselves to improve mentally, feel better, and also just become more well-rounded individuals.
Data from The CDC also backs this up with "…in 2021, more than a third (37%) of high school students reported they experienced poor mental health during the COVID-19 pandemic, and 44% reported they persistently felt sad or hopeless during the past year," highlighting just how many high schoolers across the nation had felt that way.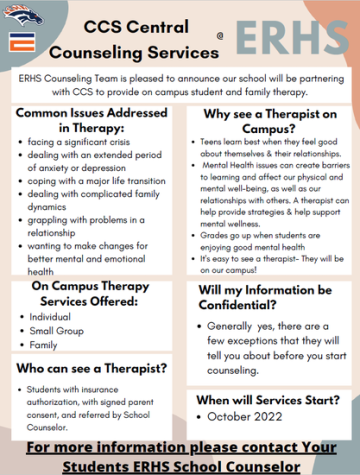 After asking students their thoughts on the Central Counseling Services offered, ERHS Freshman, Nox Gaither said "It definitely seems very useful and helpful for the student body, but it only depends on how willing students are to get help and open up to accept that help."
ERHS Sophomore, Koda Carrasco stated, "I think it would be really beneficial to the school's community and student's overall mental health."
The CDC also offers a page on mental health, which can be a big deal because of how impactful it can be on some of the most important years of your life. These years play a key factor in what college you may go to and in turn, what your career path may look like.
"Youth with poor mental health may struggle with school and grades, decision making, and their health." says the CDC.
If you ever feel hopeless, it may be difficult but try to reach out. The National Suicide Prevention and Crisis Lifeline number is 988, you can either call, text, or chat with a counselor online.
Or, for LGBTQ+ youth, you may also reach the Trevor Project by texting "START" to 678-678, calling 1-866-488-7386, or chatting with a counselor online.
Whatever it may be, stay safe mustangs!