Roosey XC League Finals
This Thursday, Roosevelt's cross-country team raced at the Big VIII League Finals. Marking the end of season for many athletes, the team returned home with top three overall titles in almost every one of the four races.
Prior to the race, senior Max Ventura reflects as his final season nears its end.
"It's my last time running varsity in the League, so I'm a little nervous," said Ventura. "But I have high hopes for the race."
Ventura ran the Varsity Boys race, finishing in 29th place and scoring for the team.
Roosevelt's varsity boys finished 4th out of the schools in attendance at the meet.
Despite not being in the top three at the meet, Roosevelt is still able to send one varsity athlete on the boys side to CIF (California Interscholastic Federation) prelims held at the Mt. SAC (Mt. San Antonio College) course. This athlete will be senior Jude Enriquez who placed sixth in his varsity race.
The boys' JV team finished second overall with their highest scorer being sophomore Aidan Gossard in sixth place.
On the girls' side, the JV team finished third overall, with senior Evalyn Le being the highest scorer at 13th and earning her varsity letter.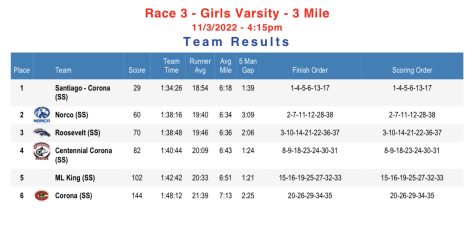 And success comes for the varsity girls who finished in 3rd overall, allowing for Roosevelt to put 12 girls on their roster for CIF prelims. Galilea Jimenez was the top scorer for Roosevelt's girls varsity, finishing third in the race.
With every race there comes the reflections that follow.
Sophomore Hazey Leiva feels gratitude.
"I was just so relieved I just finished and that i experienced another season strong," Leiva said.
While sophomore Nathan Duenas shares how he wants to improve.
"I know I ran my hardest but I was unprepared. Better habits make better runs and this painful experience taught me that," said Duenas.
No matter the take away, Roosevelt's cross country season isn't quite over yet, and the team looks forward to the results of CIF.