5.1 Earthquake shakes Bay Area
On October 25 at 11:42 AM PST, a 5.1 magnitude earthquake shook up the Bay Area just 12 miles from San Jose, CA with a depth of 8.4 km. Then five minutes later, there was a 2.9 earthquake in roughly the same area.
This is not too much of a surprise as there have been many earthquakes in California, and there are multiple fault lines. Most notably the San Andreas fault line. Though this earthquake had more likely than not occurred on the Calaveras Fault line.
As of Oct. 28, 12:32 p.m. (PDT), there happened to be over 23,000 submissions in the surrounding area to the United States Geological Survey's (USGS) "Did You Feel It" system. The "Did You Feel It" (DYFI) system gathers submitted information from people who felt an earthquake, creating maps presenting people that experienced it and the damage done.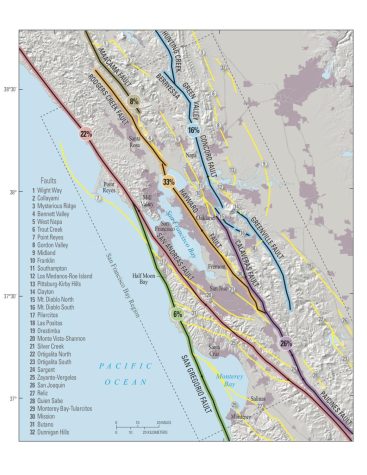 When asked what they would do in a 5.1 earthquake, ERHS Sophmore, Max Wagoner said, "If there was a 5.1 earthquake, I think I'd try my best to get outside and get out of the way of any trees. Then once I realized my cats and dogs are inside I will run back and rescue my pets."
ERHS Freshman, Xavier Farfan said, "I'm not sure since I'm too tall to fit under the desks."
The CDC says that whenever there's an earthquake, be sure to drop down under something sturdy like a desk or table, cover your neck and head (and as much of your body as possible), and hold onto the desk while covering yourself until the shaking stops. If you're inside, try to stay inside while the earth is shaking to reduce injuries. Also, be sure to move away from glass on shelves and windows, and watch for falling objects that could fall on top of you.
With all that being said, try your best to remember to drop, cover, and hold on in case of an earthquake and stay safe.