FBLA March of Dimes Fundraiser
Every November, Eleanor Roosevelt High School's (ERHS) Future Business Leaders of America (FBLA) chapter recognizes Prematurity Awareness Month, raising awareness and education about premature babies and pre-term births.
Through FBLA's national partnership with the March of Dimes, (a non-profit organization leading "the fight for the health of all moms and babies"), Roosevelt FBLA holds a month-long fundraiser so every cent goes towards the health of babies, mothers, and families everywhere.
Senior Nataniel Jayaseelan, Community Service Director of the ERHS FBLA officer team, and the officer overseeing the chapter's March of Dimes committee shares details about the fundraiser.
"The committee has been doing great work in organizing this amazing fundraiser. We were able to start fundraising at the last football game," Jayaseelan said. "Our goal for this month is to raise 2500 dollars. Supporting the health of moms and babies is vital to a better future which is why we want you to donate any spare change that you are willing to donate!"
November 1 is the official kick-off day for the chapter's fundraiser. Starting that day, there will be March of Dimes donation buckets in the front offices, various classrooms, and being carried around by students. You can also find the donation link at Roosevelt's online store here.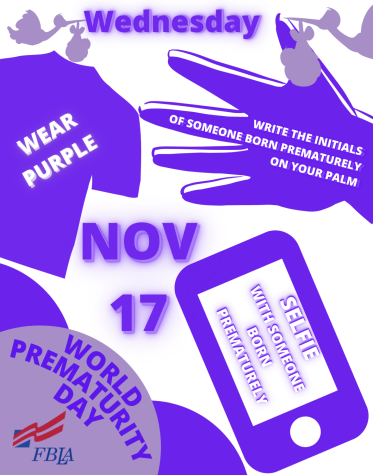 In addition to recognizing Prematurity Awareness Month, ERHS FBLA celebrates Prematurity Awareness Day on Thursday, November 17, encouraging all students to wear purple. Last year, Roosevelt's FBLA chapter even printed and handed out stickers for people to use, something they plan on bringing back this year.
FBLA and March of Dimes committee member Alejandra Cervantes, a sophomore, shares her experience working with the committee.
"It's cool to be able to help out with this fundraiser that's for an important cause," said Cervantes.