Anna May Wong on US Currency
From the penny to the hundred dollar bill, U.S. currency has been used as a tribute to America's founders, but this year, you'll be finding a new face on your money. Chinese American actress Anna May Wong, the first Chinese American movie star in Hollywood.
As the coins begin getting shipped out, Wong will be the first ever Asian American on U.S. currency. According to the Smithsonian Magazine, the quarter is "part of the American Women Quarters Program.
Launched this year and running through 2025… the Mint… is also striving to recognize women from ethnically, racially and geographically diverse backgrounds."
Wong started her career during the silent film era, appeared in over 60 movies, and performed on stages. Her birth name was Wong Liu Tsong.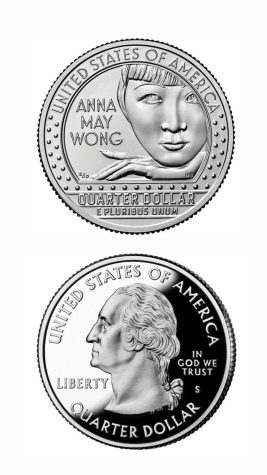 According to the National Women's History Museum's site, Wong faced numerous struggles throughout her journey as an actress. From racism to laws that even prevented interracial kisses on-screen, Wong was unable to land lead roles.
This drove her to open her own production company (Anna May Wong Productions) but was later shut down due to her partner's bad business practices.
Throughout the years, Wong continued to appear in and contribute to various pieces of media, some of the most well-known being "Shanghai Express," "The Gallery of Madame Liu-Tsong," and "The Toll of the Sea."
Now, the Asian-American Arts Award presents an award named in her honor.
Sophomore Ashlynne Adeva shares her thoughts on Wong's appearance on U.S. currency.
"I think it's really important because in recent years Asian negativity in America has risen," said Adeva. "I feel like it's very important to have Asian representation in something that's gonna be everywhere, like money."
Max Wagoner, shares similar thoughts, emphasizing the range of backgrounds of people who live in America.
"I feel like it's very important to broaden who is found on American currency to show the diversity of America," said Wagoner.
According to Smithsonian Magazine, the coins will be shipped out on Monday.
Wong's legacy continues to echo through the film industry today.