What's Going on with Kanye West?
Kanye Omari West, best known as Ye, is an extremely famous rapper, producer, and fashion designer originally from Atlanta, Georgia. Ye is mostly known for his best-selling albums, 22 Grammy Awards, and worldwide hits, as well as being the former husband of Kimberly Noel Kardashian West, but he's also very well known internationally for his manic rants and horrible opinions.
West is openly diagnosed with bipolar disorder, but the wide-spread consensus is that his mental health doesn't play a part in any of his recent "takes." Ye is notorious for his practice of free speech, and has been banned several times all across social media platforms, most notably Twitter and Instagram.
On September 2, West posted his and Kim Kardashian's text conversations on Instagram, (pictured below) which was the less noted 'start' of West's recent episodic rants and posts.
However, before this, West fabricated a newspaper front page to announce Adidas CEO Kasper Rorstard's 'death' and posted it on his Instagram, it has since been deleted, but he allegedly did this because of Rorstard 'blatantly copying' West's Yeezy slides.
He also created a fake newspaper front page to announce the 'death' of SNL star Pete Davidson, which was actually celebrating the breakup of Pete Davidson and Kim Kardashian. West has gone after Davidson many times as a result of his relationship with Kardashian, even going as far to falsely claim that Davidson shared intimate photos of him and his ex-fiancee Ariana Grande to Mac Miller, her late former boyfriend, as revenge porn.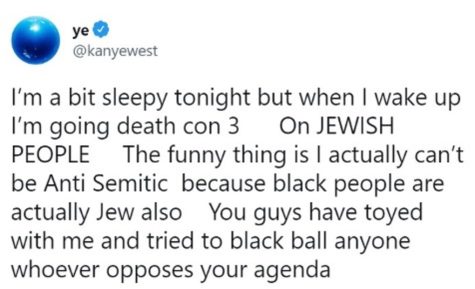 Recently, West was under fire for sporting a 'White Lives Matter' shirt and claiming Diddy, formerly known as Puff Daddy, was being controlled by 'Jewish puppet-masters', then tweeting about wanting to 'death con 3 on Jewish people'.
Former President Donald Trump himself reportedly claimed that West is acting too "crazy", and needs professional "help" according to two anonymous sources with inside knowledge on the matter.
Darrel Scott, an Ohioan pastor, and one of Trump's allies who once considered West an acquaintance, has publicly stated that Ye is a "clown" who is spewing "some bullcrap" these days.
Fans have been keeping distance between themselves and West, some even going as far to 'cancel' him, throw away merchandise, and completely stopping their support overall. Whereas other West fans have been supporting him even more now, as they follow everything he says or already shared the same beliefs.
Most fans, such as myself, are refraining from supporting West, but still consuming his artwork, i.e. separating the art from the artist, and supporting the idea of him getting extensive help and bettering himself, as he is extremely talented as an artist, yet sadly very questionable as a person overall.
Many memes created by Kanye haters, Kanye supporters, and normal Kanye fans have arisen out of his recent tangents, but West has always been meme-ified for his insanely outrageous takes and opinions.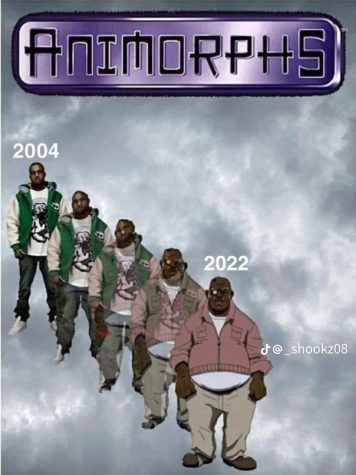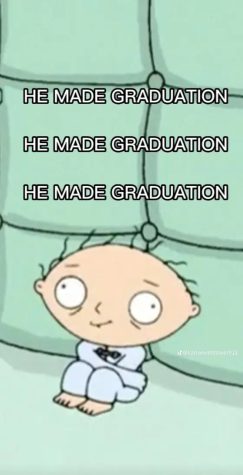 Self-proclaimed Kanye West superfan and Norco High sophomore Jaidan Rosa says, "Personally I think his actions are very disappointing. I'm a major Kanye fan, and I just have a hard time supporting his recent takes on certain things. Although it's pretty upsetting that he's getting silenced by the media. What he's saying is horrible, but that doesn't mean he should be totally cut out from everything. I love Kanye but that man needs to go on a vacation with no access to social media."
Santiago High junior Viah Gonzales exclaims, "I love Ye, I'll always love and support him, but he needs serious help. I think the stuff he's been saying is hilarious, though. Just 'cause it doesn't make sense. I don't understand what he's trying to say at all, but I'm not surprised, he's done things like this a lot."
Personally, I really really enjoy Ye's work, and he's an extremely talented and iconic artist, even referred to as 'the best of our generation', but I think his actions and personality are awfully questionable and that he needs more monitoring and to self-reflect on himself as a person. I definitely agree he needs a break from social media, and that he needs to touch grass, instead of 'touching the sky'. I send love and well wishes to everyone affected by his actions, and send well wishes to Ye and his mental state as well.