Undefeated!: Girls Golf Team Wins 4 Years In A Row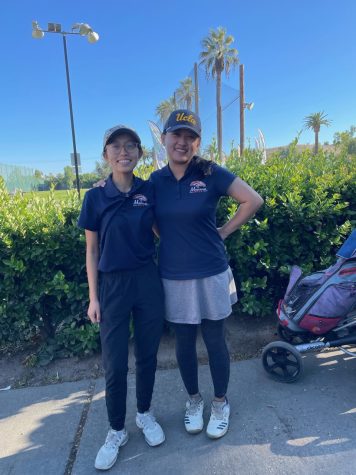 Just as the title suggests, our girls golf team has defeated yet another opponent – King. Not only that, but they have been undefeated for four years now; and for the few that have been playing since freshman year and are now seniors, can officially say they have been undefeated in all of their high school golf team experience! I managed to talk to two of the players the day after their game, and here's a bit into what they had to say.
I first interviewed Isabella Ly, a senior that has played since freshman year. One of the first topics she was eager to touch base on, was that this was a team effort.
"This year was a lot of team bonding for us," said Ly.
And they had all been practicing for an hour to an hour and a half what seems to be several days a week, all this back to back work to prepare for their big game, their last game of the season.
Ly also added, "our last game made us nervous, King is a tough (*competitive*) team."
But we as a school know, it's nothing these girls can't handle. But we can certainly sympathize with the nerves they must have felt that day.
While of course talking about the game, we also talked a little more personal. Ly told me that she has been playing for nine years and she seems to find relief and/or comfort in said game.
She also shared that, "golf is a low impact sport – it's good in a professional field" as in contrast to the high injury rates in football or wrestling while staying into a competitive game.
I also talked to another player who just so happened to be a senior as well, named Rachel Chiang. Also giving me strong feedback on how intense of a competitor King is – but also shared that this year they did better than average, both as an individual and as a group.
Chiang claims that, "last year we won by three strokes, and this year it was ten" – a clear sounding leap compared to last year.
And last year their hits were in the 40's, this year they knocked it down to the 30's, as well as explained that everyone either did just a bit above their average plays if not better during this game.
Chiang said this may be her last year playing competitively, and that she wished to give it her all. Compared to the mandated hour to an hour and thirty, she would work three hours several times weekly, and it surely paid off as Chiang reminded me that this has been her best year yet, and that this year, despite nerves, she really wanted to win three years in a row and that was exactly what she helped her team and self in doing.
This game, was a win for all – for the team that played, the friendships that were made amongst the team, the coach, the school. While it is spectacular to hear of the four year win streak – what makes me truly happy is hearing how highly each young lady spoke of their friends and team when doing one on one interviews with me. Each coming to the conclusion of wanting to pay tribute to their team, thanking them for the good years, the fun experience. This team was able to develop and grow together, and according to Isabella Ly, they have become some of her best friends now.
Myself and I'm sure the rest of the school included, are truly proud of such an outstanding team and are very happy with their growth and development as more than just team players, but as friends and even family. Good job, girls golf team! 🙂