The Passing of a Giant – Robbie Coltrane
"Harry Potter" is a popular world-wide phenomenon about the world of the wizards, started with JK Rowling's book series in 1997 and spreading out to a movie series starting in 2001. A character by the name of Rubeus Hagrid caught the hearts of the readers and viewers from the very start. Sadly, the actor who portrayed Hagrid in the movie series has passed away.
Robbie Coltrane passed away at the age of 72 on October 14, in a hospital in his native Scotland.
Coltrane had an impressive career as an actor, comedian, and a writer. His career started with theater and comedy, when he appeared in John Byrne's stage production of "The Slab Boys" in 1978. He moved on to writing and working in several shows. Some of his more popular roles was in the TV show "Cracker" (1993-1996) and in James Bond films "GoldenEye" (1995) and "The World is Not Enough" (1999).
Most people know the name Robbie Coltrane because of Harry Potter. In this wildly popular movie series, Coltrane portrayed the loyal and soft hearted half-giant who helped Harry Potter and his friends.
Since his passing, fans and friends of Coltrane alike have come forward with beautiful and touching tributes and statements in remembrance of the man who has touched so many lives.
Author of the series J.K. Rowling tweeted "I'll never know anyone remotely like Robbie again. He was an incredible talent, a complete one off, and I was beyond fortunate to know him, work with him and laugh my head off with him. I send my love and deepest condolences to his family, above all his children."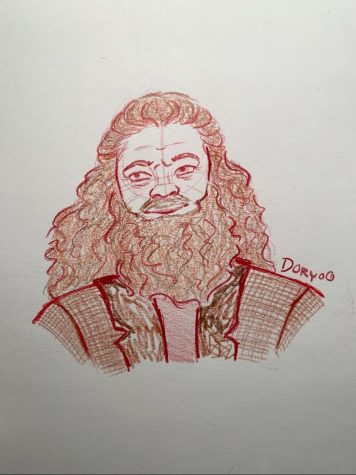 "I think [Hagrid] really taught me that it was okay to be different, it was okay to not fit in, and that those things should never keep you from showing kindness and warmth to others…" said Instagram artist Dory (@doodles.by.dory). "When I saw Robbie Coltrane's Hagrid on screen for the first time, it was just perfect. He embodied all of that, like he just jumped right out of the book. In the series, Harry says 'there is not Hogwarts without you, Hagrid.' And honestly, I couldn't put it better than that."
"Hagrid taught me to love everything, well, mostly everything," said Jurupa Middle School journalist and self-proclaimed Harry Potter fan, Estella Centeno. "He didn't care about appearances, he only cared if you were kind, which is the same mindset I have."
Rest in peace, Robbie Coltrane.