Former Try Guy Ned Fulmer Cheating on Wife
Former Try Guys member Ned Fulmer was recently put in the media spotlight for cheating on his wife. Photos had been released by fans on Twitter and soon started to become trending. The main image spread was of Ned Fulmer at what has been said to be a Harry Styles concert, on Sept 1 with a Try Guy's employee Alexandria "Alex" Herring. It is unknown if she still remains an associate producer for the Try Guys.
This caused a lot of commotion on social media, and both the Try Guys and Ned Fulmer released statements along with a video and podcast episode from the Try Guys. Both parties posted their own statements. And then, on Oct 3 The Try Guys posted "what happened."
One member, Keith Habersberger said, "On Labor Day weekend, multiple fans alerted us that they had seen Ned and an employee engaging in public romantic behavior." Habersberger mentioned how they had checked up on the employee and that Fulmer had confirmed that the affair was going on for a while.
When asked about the situation ERHS sophomore, Jakob Venegas said, "To be honest I'm lowkey sad about it. But not for him, just for his wife and the other guys."
In reference to the video, Try Guy member Eugene Lee Yang said that there was a 3-week process of  "engaging with employment lawyers, corporate lawyers, HR, PR, and more in order to make sure we were taking all necessary steps." Yang also followed up with "From the jump, we were acutely aware of just how contrary this was to the values of the company we've built and those of everyone who works here."
Ned's response to the situation was simply a tweet that he had posted to his Twitter account on Sept. 27, and since then has not posted since.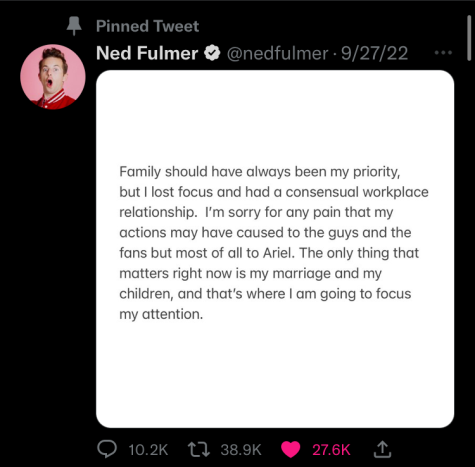 A lot of fans were surprised, especially since Fulmer was known as a 'wife guy' and brought up how much he loves his wife a lot during past videos.
ERHS freshman, Viktoria Villena said, "I think it's awful, more than awful because they have two kids together, and cheating on someone like Ariel is just dumb".
Another ERHS freshman, Alexandria Belita simply just stated, "Oh, I hate him. He seemed like a red flag" when asked about the Fulmer situation.
The cheating allegations seem to have taken at least some sort of toll on The Try Guys and their fans. We can only hope that they are able to move forward with this.