Why Everyone Should Join FBLA
Future Business Leaders of America (FBLA) is the largest student run organization in the world, helping over 200,000 students every year be better prepared for their futures.
It is a non-profit organization that "inspires and prepares students to become community-minded business leaders in a global society through relevant career preparation and leadership experiences," said the official FBLA website.
This being said, I firmly believe FBLA is an experience that should be integrated in every student's high school career.  Apart from the benefits in leadership, public speaking, and communication skills (among many more), FBLA is an incredible opportunity to bond with friends, meet new people, and expand your network.
As of last year, Roosevelt's FBLA chapter was awarded as the largest local chapter in the nation. We also placed third in the nation for Champion Chapter, a year-long set of activities made to promote local chapter involvement.
With an established chapter and dedicated advisor, there are a number of opportunities open to ERHS students in Career Technical Education (CTE) classes (such as computer science, Intro to Business, etc).
Senior Nataniel Jayaseelan shares one of his experiences.
"I got to travel to Chicago to compete, intern to get work experience and make connections with people from all over the country," said Jayaseelan.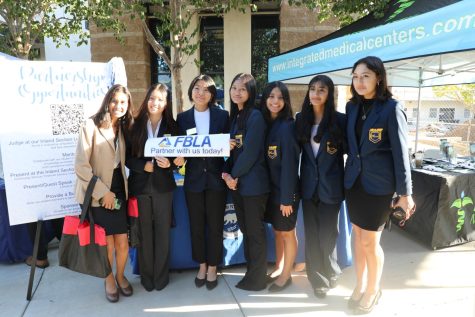 In FBLA, you have the chance to travel for various conferences where you can compete, attend workshops, network, and more.
Sophomore Ashlynne Adeva expands on this.
"FBLA has taught me not only to lead, but how to impress people, improve my public speaking, and connect with people on a different level
FBLA is not only educational but extremely fun with your friends and can truly shape your high school experience," said Adeva.
And if you aren't in a CTE class, you have the chance to do so. Intro to Business will be offered next semester during zero period. By being in a CTE class you are able to compete and attend conferences under ERHS FBLA. You can talk to your counselor or Ms. Moore in room B108.
FBLA meetings are every Thursday during office hours in the same room (B108). You can join the Remind @erfbla23 for frequent updates.
Freshman Adishvar Kahlon, this year's Freshman Leadership Associate for the FBLA officer team leaves us off with a final word.
"FBLA is a unique, well-rounded experience that really can't be replicated anywhere else," said Kahlon.