NBA Japan Games
On Friday September 30 the Golden State Warriors and Washington Wizards tipped off the preseason in Japan. This decision seems very fitting as Rui Hachimura, small forward for the Washington Wizards is half-Japanese and was the second Japanese born player to be drafted while also being the first to be taken in the first round.
"Obviously it's about the money. Building the fan base in Asia, and everywhere else in the world, results in more sponsorship dollars, increased media rights and greater merchandise sales," Bod Dorfman, a sports analyst told Yuri Kageyama in an interview with The Washington Post.
It does not come as a surprise that the NBA has a global appeal considering its easier to understand than American Football. Though basketball is not the most popular sport around the world, that title belongs to fútbol/soccer, every NBA team has at least one foreign born player that has become a popular in their respective country. Even players who were born in the U.S. are held up as cultural icons and social media giants.
The NBA has staged 12 regular season games in Japan between 1990 and 2003. Now, the engagement between Japan and the NBA is coming back in 2022. A giant 3D display at a cross-walk in Tokyo features Stephen Curry, point guard for the Golden State Warriors among other NBA stars as Japanese comic characters, or "manga". Meanwhile, the NBA's Japanese-language social media has accumulated over 1.6 million followers.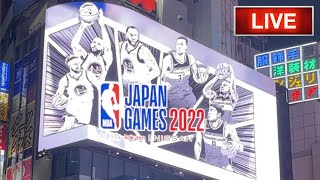 While in Japan players will be taking part in various fan events. As the NBA fanbase grows it has become a really important marketing opportunity.
After the Wizards drafted Hachimura, they saw a big boom in Japanese fans in the stands. Not only fans, but Japanese media showed up in big number as well.
"It was all about Rui. It's fast-paced. It's high scoring. It's a great sport and it's a global sport," Hunter Lochman, chief marketing officer at Monumental Sports & Entertainment told Yuri Kageyama in an interview with The Washington Post.
Besides games in Japan, a couple season games are scheduled for Abu Dhabi this season between the Atlanta Hawks and Milwaukee Bucks. The games will be tipping off early this month. Mexico City will also host some regular season games in December followed by Paris hosting a few in January.