An Art Piece for Homecoming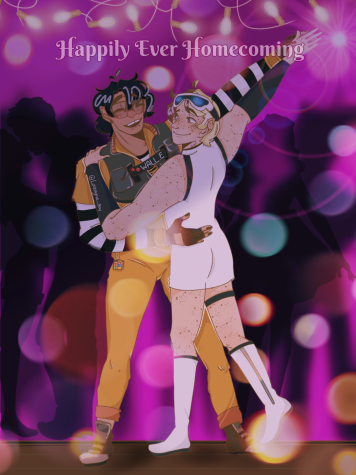 Hello! I'm Lazarus, and this is an art piece I did in honor of homecoming coming up 🙂
This art piece took me around 9-10 hours total. The drawing itself on ibisPaint X says eight hours, but I had to draw an ideal sketch and refs on another paper first, of course draw it, then edit the image, then play with it in picsart, then re-edit and making final changes, etc. This piece is of my two main oc's, Jericho (split dye hair and freckles) and Maikol "Mickey" (black curly hair and glasses)- most people who know me for my art are very familiar with these fellas as my sketchbook is filled to the absolute brim with drawings of these two's unrealistic (fantasy based) adventures and story line. In honor of homecoming being Disney related, I drew them as one of my favorite Disney (specifically Pixar) couples; Wall-e and Eve! Which fits their personalities pretty well, funny enough.
Anyways, let me know what you think! <3
And if you're going to homecoming, have a wonderful night!!!