ERHS Theater's Coffee and Karaoke Fundraiser
The ERHS Mustang Theater held a Coffee and Karaoke fundraiser for their program last Friday, and the event was a huge success!
The event was held Friday, September 16. It was located in the cafeteria on the Roosevelt campus, starting at 4:30 in the afternoon and going until 7:30. The entry cost for this event was a $5 fee, but the exciting activities at the fundraiser were definitely worth the cost.
It was an evening of fun with friends, food, and music! The event was run by students in the theater program, with some amazing booster parents helping out with concessions. Tasty snacks like chips, muffins, and the especially-popular boba popsicles were sold. And you can't forget the coffee, of course! The proceeds of this event are also going to a great cause.
"We had the fundraiser for our musical 'Mary Poppins'…" said Maliah Pajo, senior at ERHS and president of the theater department. "We're planning a lot of really cool things for 'Mary Poppins,' like having Mary actually fly and Bert walk up the walls."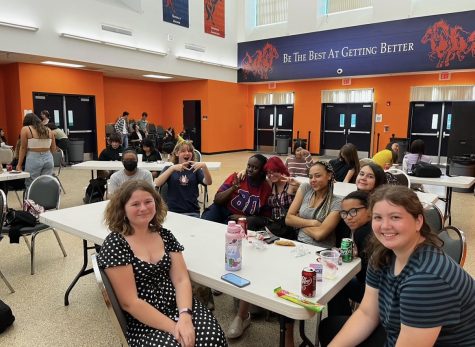 People could come up to the DJ booth and request a song, then they were announced by the emcee. They got to have fun and sing in front of friends and family. The event was not only limited to people involved in theater, and many others got to have fun with this night.
"We had a really great turn out… " said Emily Summers, a senior at Roosevelt and the theater event coordinator. "A lot of people came, a lot of people from theater brought their friends, so it got a lot more people interested and involved in theater that are outside of the theater program, so I think it was a success."
This fundraiser was a clear success from a fundraising and promotional standpoint, but it was also a success in some more personal ways as well.
"Not only did the turnout help fundraising-wise, it just allowed a space for people to create new memories, and just have fun and get away from… things in life," said Gracie Juniper, a sophomore at Roosevelt who is on the fundraising committee for theater. "It created a new space for people to feel safe. And I think it will kinda help us grow our program in a way, because people will realize how great our program is."
The first ERHS Mustang Theater's Coffee and Karaoke Night of the year was a success, but there are more fun events coming up to look forward to! Theater is also going to be doing a fundraising workshop for kids, who can perform in the Jukebox Musical on October 15. The winter musical that the Mustang Theater is going to perform is 'Mary Poppins,' which will open in December.
Make sure to keep an eye out for these exciting events, and follow the ERHS Theater Instagram account, @erhstheater !