Homecoming 2022: Pros and Cons of the Whimsical 'Disney' Theme
As Homecoming approaches, students are rushing to get their hands on tickets and preparing their outfits and dates. But what happens if not all students who were planning on going were allowed to consume a specific type of media, which ended up becoming the theme? What about the ERHS students who have never cared for or interacted with Disney movies, shows, or characters? Many students feel differently about this theme, let's discuss it.
For the past few years, homecoming has had very diverse and open ended themes. For example, last year's homecoming was Decades themed, in which students could choose a specific decade and dress according to that era's fashion. Tickets sold out quickly, and many students enjoyed the creative freedom they had over their homecoming looks. This year, however, the dance is Disney themed. While some students have beloved Disney characters to inspire them, and prefer this theme because of nostalgic or creative reasons, others do not, especially those who have little to no knowledge about Disney or the characters.
When it comes to themes based off media, an influx of students come out saying they have no strong feelings about the theme, or that they dislike it since it's much less open-ended and up to interpretation. Personally, I dislike the media based dances or events, as it's unfair to students who have no background information or experience with the theme and topics at hand. Additionally, many ERHS students reached out to say they feel a dance themed after Disney is childish, and unfit for a high school.
I personally conducted a poll about the subject, and these were the results from 19 participants.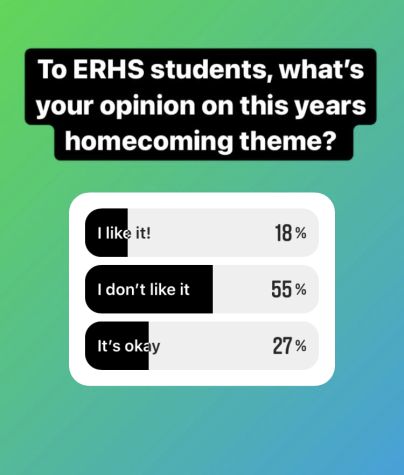 After conducting interviews, this is what students had to say.
Kiolanny Guzman, a senior who happens to be running for homecoming queen, said "I really like Disney theme, I love Disney and am so excited to be homecoming queen."
On the other side, Janet Griffin, a campus security guard, said "I think it's awesome, but come on, this is a high school dance".
It seems as if this year's homecoming theme isn't as popular as anticipated, but hopefully this won't stop students from attending and making memories.
This raises the question, should students vote for a specific theme instead of it being chosen? How do you feel about the theme, and if you could, what would you change it to?