Southern California Heatwave Breaking Records
Southern California has seen extremely high temperatures and hot, sunny days for the past several weeks, but it seems as though those days are starting to come to an end.
This September has actually seen record-breaking numbers in temperatures for the Golden State. The heatwave saw its start on Tuesday, Aug 30, with a high of 108 degrees in Eastvale. The temperatures quickly rose from that point. Just in the past few weeks, Eastvale alone has seen a common trend of extremely high temperatures. The first seven days of September alone saw consistent temperatures in the triple digits.
Several different types of warnings have been issued as a result of these temperatures. Excessive heat warnings were issued several times throughout these days. There have also been "Flex Alerts" concerning energy conservation. A few cities in California have temporarily lost power because of the high temperatures, as the heatwave has caused stress on the power grid.  Local and state-wide governments have urged people to conserve energy and shut off electronics for a certain period of time, most commonly from between 4-9pm.
The temperatures have had more than just an effect on the power grid. Students involved in sports on campus have seen the heatwave alter their normal routines as well.
"Mondays and Thursdays we usually go to the weight room," said Ryan Latham, a senior who plays lacrosse at Roosevelt. "There was a day that we couldn't practice because PE had to use the weight room."
"The heat is very draining, so when you're practicing in the afternoon, you feel really tired. And you kind of feel dizzy," said senior Orchid Concha, a pole vaulter for Roosevelt Track and Field. "You feel like you need to drink a lot of water, you feel dehydrated all the time."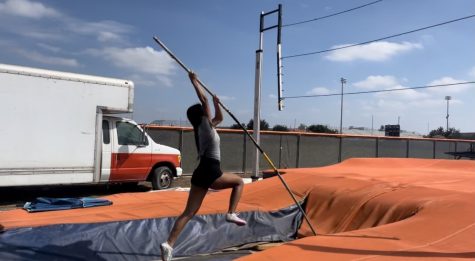 It seems as though the record-breaking heatwave hitting Southern California is coming to a close, and students are excited for what they can do once the weather starts cooling down.
"Wearing hoodies, that sounds really great, and going ice skating," Latham said.
"Just being outside more, since it gets really hot, so you have to go in the shade, or you have to go in the AC," Concha said. "So being more outdoors, I'm looking forward to."