Tyreek Hill Heading to South Beach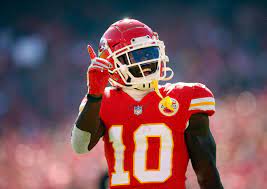 If the NFL offseason hasn't been crazy enough, it was revealed on March 23 that All-Pro Wide Receiver Tyreek Hill wanted to get traded from the Kansas City Chiefs. Now it was rumored that he had two ideal trade destinations, the New York Jets and the Miami Dolphins. Hill wound up choosing the latter to go play for Miami, but the Chiefs didn't walk away from this deal empty handed.  They got a trade package that included five picks and this year's draft with multiple first round and second round picks.
I think the Dolphins hands down won this trade; they get an unbelievable play maker in Tyreek Hill to partner with Jaylen Waddle making them the fastest wide receiver duo in the league. I think this also helps Miami considering they just traded DeVante Parker to the New England Patriots.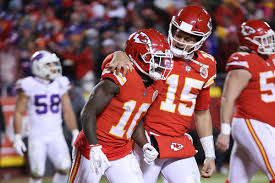 The only potential problem with this is the Dolphins Quarterback Tua Tagovailoa. He isn't a terrible Quarterback, but it is a night and day difference when we are talking about Tua as Tyreek Hill's Quarterback as opposed to talking about Patrick Mahomes as his Quarterback.
Tagovailoa is a short to medium pass player and Hill is known for big and deep play making abilities, we will have to see if Tagovailoa can get Hill the ball on those deep plays.
Now for the Chiefs. As I previously mentioned, they got a good deal back for the trade, they got some high round picks, but you don't have anyone like Tyreek Hill. This draft coming up is wide receiver heavy so they can test their luck, but you're never going to get a player like Hill back.
Jeff Chadlha, a writer for the NFL, was quoted as saying, " The deal makes sense for the Dolphins because they need a dominant receiver. It works for the Chiefs they've already handed out an assortment of massive contracts over the last couple of years and the money dries up sooner or later."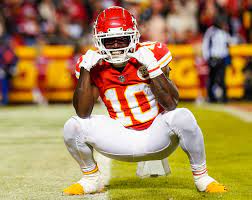 A lot of people have been wondering why Hill was traded or what led to that trade. Personally, I believe he saw these other wide receivers getting huge paydays and he is easily a top five receiver, so he deserves this money that his counterparts are getting. But like what I have previously explained, with the Chiefs giving Patrick Mahomes that huge contract extension a couple of off seasons ago, they knew this would be a problem sooner rather than later. So I fully understand why Hill wanted to seek a team who had it in the budget to give him the big contract that he deserves, and his new contract is a 4-year deal worth $120 million with $72.2 million of it guaranteed.
Mahomes was even quoted as saying, "It more surprised me whenever it got to the point where we were really considering trading him." So even the Chiefs star QB was shocked when the trade talks got more and more serious. In the end though,  I think all three sides got what they wanted. The Dolphins got an all time talent, Tyreek Hill got his payday, and the Chiefs got their draft capital.
This NFL off season, up to this point, has been insane. I can't wait for this football season.