Disney's 'Encanto' Welcomes You to the Casa Madrigal!
I can't talk about Bruno, but I CAN talk about this movie…
This review contains SLIGHT spoilers… enjoy, though!
Disney's "Encanto" is a movie that took us all by surprise. With over 125 million streams on Disney+ and No. 197 on the Billboard chart, "Encanto" is definitely a Disney film that you should check out. With its phenomenal songs to touching story, this movie will surely blow you away or have you leaving the theaters sobbing.
The film literally starts off with the protagonist, Mirabel, welcoming you to Casa Madrigal that's located in the mountains of Columbia. As she gives us a tour and history lesson of her family's past, we learn that her entire family has been blessed with a miracle (a candle) called "Encanto" which grants all of them magical powers – all except for Mirabel. When the miracle suddenly begins to fade, she decides to take it upon herself to save the miracle and prove she is just as useful to her family.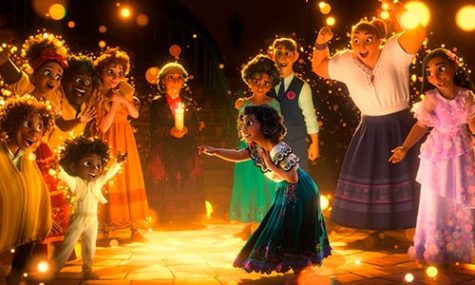 By now, everyone probably has "We Don't Talk About Bruno" stuck in the back of their head or is crying over "Dos Oruguitas." As the writer of the music, Lin-Manuel Miranda does an amazing job at getting in touch with each of the character's emotions which helps the story move forward. These songs provide character development and an emotional connection with the Madrigal family. Miranda manages to bring in some of the traditional Colombian culture into each of the songs to help the film feel more comforting and nostalgic for the audience.
"These characters are having emotional breakthroughs and reunions all in song," Lin Manuel-Miranda said in a Disney interview. "With every musical project, I'm trying to find the pulse of the characters. The song I wrote for Isabella is called 'What Else Can I do?' and for that, I was really inspired by the 90s rock and Espanol movement, and it was about finding those Colombian rhythms that are so unique."
Each song holds so much meaning and value to the characters which helps unfold the story. In "Surface Pressure," we get more insight on Luisa Madrigal and the overwhelming responsibilities that come with being the eldest daughter. In "Waiting on a miracle," we also learn about Mirabel's insecurities and how she's literally waiting on a miracle in hopes of getting a special gift like the rest of her family. Miranda does an amazing job at writing songs that go with each character, while also staying true to the Colombian roots. There's more amazing songs, but you just need to watch the movie yourself.
"Encanto" is definitely different than the typical Disney movies. In the past, the protagonist would stand out with some sort of magical power or use a fairy-tale flow throughout the rest of the movie. In "Encanto," we see Mirabel and the rest of her family going through many changes because of the need to uphold this "perfect" image. We also see many factors like self-growth and generational trauma that hits too close to home, but is perfectly accurate. It's a realistic theme that we don't see very often in family movies.
"'Encanto' stands out from other Disney movies," Lorraine Olaya from Washington Square News said. "It has complex and diverse characters involving the intimate mystery within a magical world. What piqued my interest was learning how the magical world functions as well as about complicated familial relationships. Especially after 'Raya and the Last Dragon,' I was expecting a similar tone that catered to a younger audience. But the jokes were genuinely funny, while the movie's plot included real problems and darker undertones, offering an unanticipated contrast."
Please, please, PLEASE watch "Encanto!" I can't stress it enough, you will not regret it.