Baseball: America's Favorite Pastime
Earlier this month I had the pleasure of seeing the baseball team practice. During this time I had the chance to interview all of the seniors on the team. If only you could hear the audio for the interviews, in the background it sounds like they're in the middle of fighting a war. This was by far the most fun I've had conducting interviews. I had a chance to ask the guys about their love for the game, what keeps them going, and how they have fun.
The first players I talked to were Kyle Tiffin and Mathew Valdivia.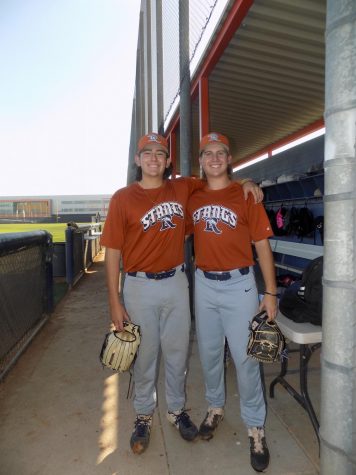 "We are all super close, so it's like a family, it's not like anybody is uncomfortable with each other. We can all just be friends and have fun, which makes the game better," Tiffin said.
Tiffin has also recently signed a National Letter of Intent to Westcliff University.
"My Grandfather just passed away and it was always his wish to have one kid go to college and play at the next level of baseball. Him and all my cousins, everyone in my family played baseball and it kind of just pushed me in the right way. Out of all the sports, I like baseball the most," Tiffin said.
If you are wondering how student athletes manage their time and calm their nerves, Valdivia is here to cure your curiosity.
"I manage my time pretty well. I get home from school, I take a shower, I do all my schoolwork, then enjoy the rest of the time with my family. [When under pressure] I like to meditate a lot to calm myself down, cancel out all the noise and focus on my breathing," Valdivia said.
Roman Magaña, a relief pitcher who is really good from what I saw, told me about how he got into baseball and his hopes before the season ends.
"When I was younger I watched baseball games with my dad on the couch, which got me into baseball. I liked a certain player, Derek Jeter and so I just fell into it," Magaña said.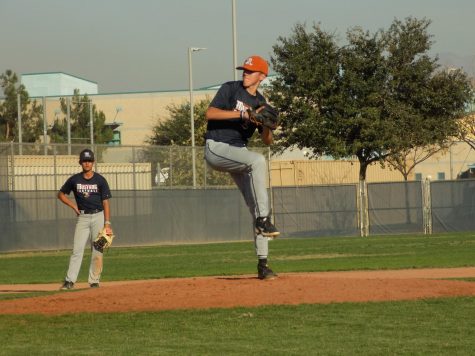 "[I like to play against] Norco because I don't like them," Magaña said.
Magaña's goal before the end of the season is to be a starter rather than a reliever.
Preston Allen, who is a utility player, spoke about his feelings on the team dynamic this year and balancing baseball and school.
"Previous seasons have been whatever, but this season I think we're going to be great. My favorite part is our team bonding experience. I met a lot of my closest friends on the baseball field so I love getting to go to school with them and play baseball with them," Allen said.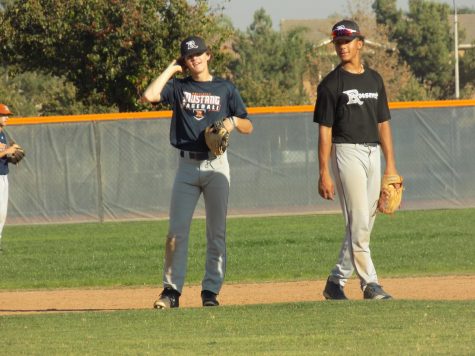 Allen doesn't find balancing school and baseball hard saying "it's just one part of the day then the next. Whenever I get out of practice I do my homework and other regular life stuff." He has a 4.0 GPA by the way.
Aden Rubio, the first baseman, chose baseball over football because he feels it "requires more concentration and it's more of a grind." I'm surprised basketball wasn't an option considering he is the tallest on the team standing at 6 feet 4 inches. The coach, who they affectionately call Papa B, even introduced him as "the tall one."
In regards to fights with teammates Rubio said "it just builds chemistry." Unfortunately, he will not reveal what the fight was about.
Patrick Fregoso, who recently signed a National Letter of Intent to Cal State San Bernardino, talked about his parents and how they played a crucial role in his success.
"My parents inspire me to keep up with the sport because they put a lot of effort into me being able to play. The biggest hurdle is traveling and not being able to go out every night. In the end it was all worth it. I like being able to get closer to my teammates on and off the field," Fregoso said.
Blake Rauch, who plays center left/right field, has been playing baseball for nine years. His dad put him in and he just fell in love with the sport. Rauch is probably the most interesting player to be interviewed. In all of the questions that were asked, there is really no rhyme or reason to anything he does. He usually eats fruity pebbles before a game, and nothing really inspires him he just loves to compete.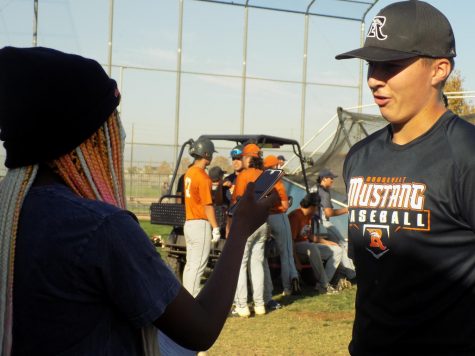 Chris Munoz, who plays outfield and catcher, spoke about his superstitions and how he gets in the zone.
"Before each game in my batting practice routine I'm always thinking about seeing the bat hitting the ball. Not really thinking about my form or anything because I feel like it gets me thinking too much so I like to keep it simple," Munoz said.
Congratulations to the Mustang Seniors and all they have accomplished this year. With a 8-3 record so far I cannot wait to see what they accomplish next year.