Demon Slayer's Epic Return With Second Season!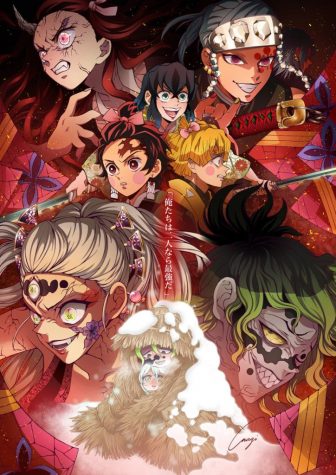 "
The character design of the antogonists is so sick! I can't wait to see all of the new characters especially Daki."
— Sid Lorenzo
Everyone grab your laptop and popcorn, "Demon Slayer" has made its epic return with another season! From the amazing plot to its animation, fans from all around are excited over this popular anime. The first episode aired on October 10. You can also watch it on Crunchyroll, Funimation, and Hulu.
"Demon Slayer" also released a movie, "Kimetsu no Yaiba the Movie: Mugen Train," in April that goes with the second season. It shows Kyojuro Rengoku, the flame hashira, along with your other favorable protagonists featured on the Mugen Train arc.
"I'm genuinely glad that they're readapting the movie into an episode format despite the fact they don't even have to," ERHS senior Drake Zimmerman said. "It shows Unfotable genuinely cares for the series and their fans. It's already been shown and confirmed they're adding on new osts [original soundtracks], scenes, etc. as well so I'm happy."
Just like Zimmerman, many fans are excited for the upcoming season. It will include the movie for those who haven't seen it and a new soundtrack, opening, and ending as well. After the first opening from season 1 gained popularity, LiSA is back with both the new opening and ending themes for the Mugen Train Arc according to ComicBook.
The Entertainment arc after Mugen Train will also premiere with an hour-long episode on December 5. The original voice actors like Natsuki Hanae (Tanjiro), Akari Kito (Nezuko), Hiro Shimono (Zenitsu), and Yoshitsugu Matusoka (Inosuke) will also be returning along with Toshihiko Seki (Muzan Kibutsuji). Miyuki Sawashiro who also voices Kurapika from "Hunter x Hunter" and Bishamon from "Noragami" will voice a new upper-rank demon, Daki, as well.
The new season of "Demon Slayer" will definitely blow you away with new music, characters, and high quality animation.