ERHS Senior Sunrise!
Things just got brighter for Seniors of 2022…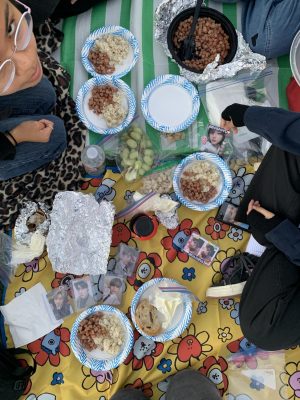 Despite all the COVID-19 hardships and postponed school dances, ERHS seniors participated in Senior Sunrise on September 22! They maintained doing so safely by social distancing and wearing masks. Students also brought blankets, food, speakers, and even K-pop photo cards to the event. Filled with fun and laughter, the seniors definitely made the most out of this school tradition after quarantining for a year.
"It felt really refreshing being able to spend time on the football field with my closest friends and listening to my favorite songs," Conner Alex Balbuena said. "It's always enjoyable to see other people and laughing with them, especially after being stuck in the house for a year. I took so many pictures with my friends that I will be able to look back to when I'm older, and be able to smile at the memories."
This event helped to enliven senior year for those who spent their recent school years virtually like Balbuena. ASB was also nice enough to provide snacks, like croissants, and speakers to help make the scene more vibrant. Students were also able to request songs through a Google form so they could watch the sunrise while listening to their favorite songs. Pretty cool, right?
"
I think senior sunrise was fun and I liked being able to be with friends to watch the sunrise.
— Madison Lingad
"My first ever senior experience was interesting and not much how I expected," Alexi Balancio said. "Some things I enjoyed was being around people I loved and seeing everyone together before we go off to college and do our own individual things. I liked being with my friends and seeing everyone be in the same environment."
Mindy Ngo, another ERHS senior, also added that they used this event as another fun way to spend time with friends and reconnecting with others they haven't spoken to since the pandemic began. The food and music was enjoyable and Mindy wishes they could experience this again.
Seniors like Balancio and Ngo used senior sunrise as a way to spend time with friends as much as possible. In every corner you looked, there was a group of friends enjoying the sunrise (safely!) while actively socializing. Students are more than happy they got to be involved in a fun event after pushing through hardships they experienced throughout the years. It's refreshing to participate as a whole class to commemorate your hard work and growth especially during the COVID-19 mess.