What Are Students Wearing?
Fashion plays a huge role in many people's lives and with high schoolers it's no different. Fashion contributes to a person's confidence, self-esteem, and can also be used as an outlet for people to express themselves. Today the general public has access to clothes made ready-to-wear off the rack as opposed to waiting for new fabrics and sewing supplies to create their own clothing.
Earlier this week I photographed a few of the students outfits to learn more about how they express themselves in their everyday life without having to say a word.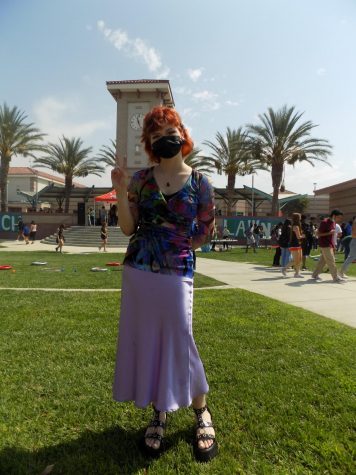 Senior Sophia Sandoval is wearing a multi-color mesh top with a black tank top underneath, a light purple skirt and platform shoes. Sandoval is no stranger to the world of fashion as she used to design her own clothes. Sandoval trades shopping in stores to shop on the online marketplace Etsy which focuses on vintage and handmade clothing in order to support small businesses.
"I used to design a lot of my clothes. All of them I used to sew… I made a lot of my pants as well," Sandoval says.
Despite having excellent fashion knowledge and experience in sewing, Sandoval does not plan on going into a fashion based career and instead, plans on going into computer science.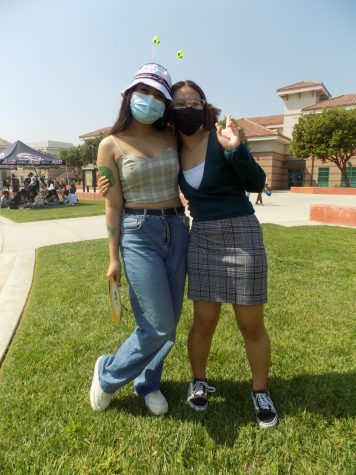 Senior Denise Arte is wearing a plaid tank top with baggy blue jeans while Senior Lilo Cruise wears a green sweater vest with a white tank top underneath and a plaid mini skirt on the bottom. Cruise who was at first hesitant to take a picture was convinced when Arte offered to take the picture with her. Just by looking at them, these two have a love for fashion and dress not only for style but also practicality.
"My favorite style of clothing is baggy jeans and anything that's really comfortable. On days that are hot like this one I like to wear sleeveless shirts…when I'm wearing my favorite clothes I feel really happy and confident with myself. On days where I don't really feel as great I think it really reflects my style… on those days I'm wearing a plain hoodie and not looking the best for my standards," Arte says.
Arte also has experience in sewing. In the past she'd take her Father's old clothes and made them into her own.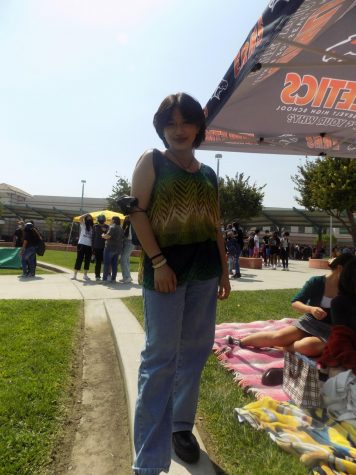 Senior Milo Espinosa is wearing a sleeveless top with a mesmerizing pattern and blue jeans. Espinosa's short hair and black shoes add an extra vintage element to the outfit. Espinosa is a fan of "Y2K or vintage" style of fashion.
"Jewelry is a really good piece on your clothing… try to find a color to match with your entire outfit," Espinosa says.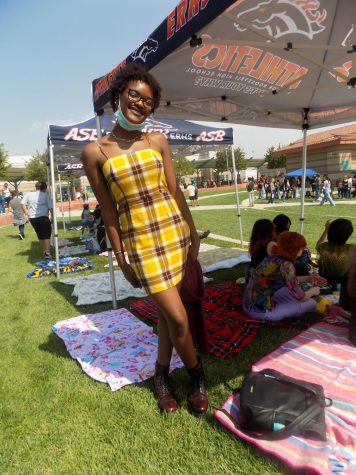 Senior Erin Sanders sticks out from the crowd in a plaid yellow mini dress and burgundy almost brown shoes. The yellow color of the dress along with the brown accent color really makes Sander's skin pop.
"I'm versatile, I don't really have one specific style, I kind of go with what I'm feeling for the day just to show that I can show that I can do different styles and aesthetics," Sanders says.
Sanders wishes she "had bell bottoms" in her closet which is something you don't hear very often as a wish, but I'm sure if anyone could make them look stylish Sanders is the one for the job.