Lawd Have Mercy!
Chlöe - Have Mercy (Official Video Trailer)
On September 10, Chloe Bailey from the R&B sister duo Chloe x  Halle released her first solo debut single "Have Mercy," which sets out to be the lead single to her upcoming untitled solo debut album.
The singer who released the song under alias Chlöe, first teased the song on July 1 from her twitter account. The single was first set to be released in August on an unknown day but, it seems as though there were complications since the song was released a month late. This caused many twitter users to constantly ask the singer to "drop" the song every time she made a tweet.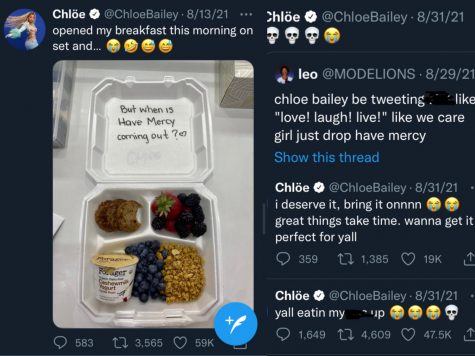 Finally, the highly anticipated song and music video were released. The song received mixed reviews. Some say that it was the best they ever heard, others say it was overhyped.
A YouTube channel even claims that Bailey sold her soul to Singer-Songwriter Beyoncé and Beyoncé's mother, Businesswomen Tina Knowles-Lawson (also known as Mama Tina), which she explained in a 43 minute video titled "Did Chloe Bailey SELL HER SOUL to Beyoncé and Tina Knowles?" that was put up on the site just a few hours after the music video premiered. In 2015, Beyoncé, who is constantly accused of being in the illuminati and selling her soul, signed Chlöe and her sister Halle to her management company Parkwood Entertainment, so no wonder why a video like this would be made.
If I do say so myself, the song is immaculate and the video is just the icing on the cake. The video is inspired by Greek Mythology about a sorority in which Chlöe is head of. As frat boys along with sorority girls are entering the front door the star of the show Chlöe is seen standing on top of the house in a pink-plaid set. Later on in the video Chlöe captivates a specific frat boy, played by actor Rome Flynn, whom she captivates and seduces with her voice, choreography, and charm before she turns him to stone as if she's Medusa. Throughout the video we see many more stone statues alluding to this not being the first time she has done this.
Notable appearances other than the obvious Rome Flynn are, U.K singer Bree Runway, one of Chlöe's sorority sisters, and Mama Tina, Private Investigator. Mama Tina only makes one appearance so it's safe to say Chlöe never got caught turning boys into stone and is probably still going.
The director of the video, two time BET award winner, one for video director of the year and the other for best director in hip hop, Karena Evans, who also directed two of Drake's music videos, "God's Plan" and "Nice for What" does an amazing job. Not only are the visuals mesmerizing they are also pleasing to the eye.
Chlöe's angelic voice voice mixed with Murda Beatz's excellent production skills, makes the song perfect to get ready to. Whether you're going out for a night on the town, work, school, or even just for sitting around the house all day, play "Have Mercy" and you are sure to have a great time!