9-4-'81 Bey Day!
Beyoncé Giselle Knowles-Carter, better known as Beyoncé, was first introduced as the leader of R&B girl group Destiny's Child. The group gained relevance in the late 1990's having four members, however, the group would soon become three with only two original members remaining. In 2003 Beyoncé would launch a hugely successful solo career. Some of her hit albums include "Dangerously in Love" (2003), "B'Day" (2006), "I Am… Sasha Fierce" (2008), "4" (2011), "Beyoncé" (2013), and "Lemonade" (2016). In honor of Beyoncé's 40th birthday which was this month on September 4, I am ranking 20 of her most iconic songs.
No. 20: "Irreplaceable" from her second studio album "B'Day" released on September 4, 2006 to coincide with her twenty-fifth birthday. Beyoncé sang about her unfaithful lover who can be easily replaced to the tune of an acoustic guitar. "So don't you ever for a second get to thinking you're irreplaceable" Beyoncé says.
No. 19: "Love Drought" from her visual album "Lemonade" released on April 23, 2016 with an HBO premiere. Unlike the other songs on the album, "Love Drought" offers a more calm and controlled side to Bey. The lyrics almost serve as a confession of acceptance for her husband, Jay-Z's, infidelity. Despite her insecurities and trust issues she is ready to start fresh in her relationship.
No. 18: "XO" from her self-title album "Beyoncé" released on December 13, 2013. The music video features Beyoncé along with three of her friends running wild in an amusement park. The video was filmed by fashion photographer Terry Richardson on Coney Island.
No. 17:  "Why Don't You Love Me" a pre-order bonus track from her third studio album "I Am… Sasha Fierce" released on November 12, 2008. The video features Beyoncé as "B.B. Homemaker" as she tries to convince her husband she is the best he'll ever get and doesn't understand why he wouldn't love her as much as she loves him. The music video is set in the 60's showcasing Homemaker as a independent woman doing all of the housework while in mini dresses and heels.
No. 16: "Love on Top" from her fourth studio album "4" released on June 24, 2011. Bey sings about how in her eyes, her man can do no wrong. She also used the song to reveal her pregnancy with her first born child Blue Ivy Carter at the MTV Video Music Awards in 2011.
No. 15: "Radio" from her album "I Am… Sasha Fierce," Bey sings about how much she is in love with her Radio. "In my household, I didn't go all of the parties and I didn't do all of the things a lot of the other teenage girls did because I was so in love with my radio and my music. I was so in love with this radio and my parents were happy that I was into something positive" Beyonce said.
No. 14: "Sweet Dreams" from "I Am… Sasha Fierce." Beyoncé sings about a relationship that is so good you don't know if it is a sweet dream or a beautiful nightmare. The song was actually leaked before it released and remains the only song that Beyoncé has ever had leak. The song was eventually excluded from the final track list.
No. 13: "Upgrade U" featuring Jay-Z from "B'Day," Beyoncé, along with husband Jay-Z, sing and rap about what they can do for each other if they get together. The music video features Bey in what can only be described as luxury as she lists what she could do for her man to make him better. For a little of Jay-Z's verse Bey even wears a rendition of his outfit as she copies his tendencies and lip syncs to  his part.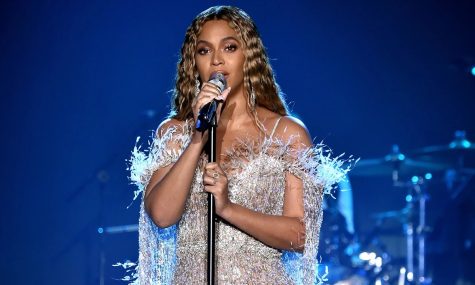 No. 12: "Superpower" from "Beyoncé," in this simple yet powerful song Bey sings about strength and true union.
No. 11: "Standing on the Sun" for an H&M commercial. The song explores the different emotions of women which are represented by the four elements- earth, wind, fire, and water.
No. 10: "Single Ladies (Put a Ring on It)" from "I Am… Sasha Fierce," the lyrics are straight forward and to the point, Beyoncé thinks you should dump your boyfriend if he doesn't propose.
No. 9: "Diva" from "I Am… Sasha Fierce." Beyoncé sings about what it means to be a diva while bigging herself up as the head diva.
No. 8: "Ring the Alarm" from "B'Day," Bey sings about how she is not happy with the behavior of her man, only she doesn't want to call it quits because she fears another woman will benefit from everything she has taught and given to him.
No. 7: "Pretty Hurts" from "Beyoncé," Bey opens her album with an attack on women's unattainable beauty standards and the pressure women are put under to attain them.
No. 6: "Find Your Way Back" from visual film and album 'Black is King" released on July 31, 2020.
No. 5: "I Was Here" from "4," Beyoncé sings a bitter-sweet ballad about not wanting to be forgot when she is gone, but if she is forgotten, at least she made someone else happy even if it was just for a moment.
No. 4: "Me, Myself, and I" from Bey's solo debut studio album "Dangerously in Love" released on June 20, 2003.  In her third hit single Bey sings about her cheating boyfriend and comes to the realization that in the end all she has and can trust is herself.
No. 3: "Suga Mama" from "B'Day," Bey sings about her man treating her so well that she lets him take her credit card and go crazy in the mall with it. She also personally buys him stuff with her own money.
No. 2: "Crazy In Love" from "Dangerously in Love." In Beyoncé's first hit single she sings about how she loves her man's love for her so much that she can't handle it and acts out of her character.
No. 1: "Green Light" from "B'Day." Personally my favorite song by Beyoncé ever. The song is about a break-up in which Bey gives her man the permission to move out. Think of the song as a big sister to "Irreplaceable."