The Collab We've Been Waiting For – BTS, Megan Thee Stallion "Butter" Remix
An uplifting track with the most impact.
BTS (방탄소년단) 'Butter (feat. Megan Thee Stallion)' Official Visualizer
The BTS (Bangtan Sonyeondan or Bulletproof Boys Scouts) and Megan Thee Stallion Print is just as smooth as butter. On August 27, the K-pop group released the remix "Butter" with Megan Thee Stallion which sparked the media with over 6.7 million unfiltered streams.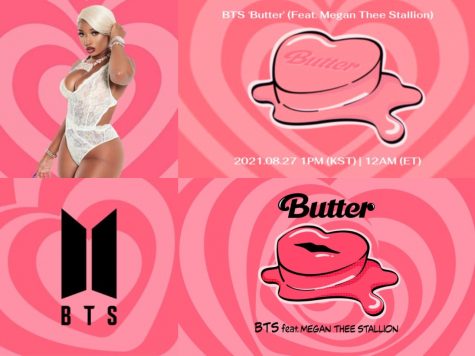 ARMYS and Hotties from all around were pleased with the overall vibe and impact both artists exuded.
"Both Megan and BTS have started out small in the beginning of their careers and here they are, standing as some of the most successful artists in the entire industry," Milo Espinosa said. "The representation and growth each artist have shown to their respective communities adds more to how incredible they are. Their dynamic and respect for one another really impacted me in the most endearing and positive way."
Many fans like Espinosa feel as if the disco-pop remix widened the recognition for eastern artists along with representation. They both made their hometowns proud with their influence. This has also inspired many ARMYS and Hotties to unite by changing their layout on Twitter to donating for donations.
According to TeenVogue, fans of both artists came together and raised more than $100,000 for donations which included Black Women for Wellness, Women for Afghan Women, and the Houston Food Bank to support Megan.
The unity of BTS and Megan Thee Stallion hold such a comforting strength due to their similar perseverance to get where they are now.