Audiobooks On Spotify
It has come to my attention that not everyone knows that audiobooks are available on Spotify. Free with commercials or unlimited with the membership, people are able to listen and download audiobooks.
Not all books are on Spotify and depending on the book, they can come in different formats. I am currently listening to the audiobook for "The Raven Boys" by Maggie Stiefvater in the form of an album.  Some books will come in podcast form.
Listening to audiobooks on Spotify can be tricky when they are in album form. The book is divided into small (generally 3-5 minute) chunks that all exist on the same album like songs. There is no way to save your place and accidently shuffling your audiobook is a real spoiler concern. I have found that "liking" whatever chuck I am currently listening to works as a good book mark. It can suck to loose your place and struggle to find it again, but I find the struggles worth it when I have so many books at my finger tips for a the cost of a Spotify subscription, which is about $10 a month for a single premium account.
Podcast form is much easier. Each chapter is one podcast episode and Spotify will automatically mark episodes/chapters as complete. Spotify also keeps track of how many minutes you are in on your current episode. I have not listened to any of the podcast books because they are usually classics but I have used Spotify to listen to podcasts many times and absolutely recommend.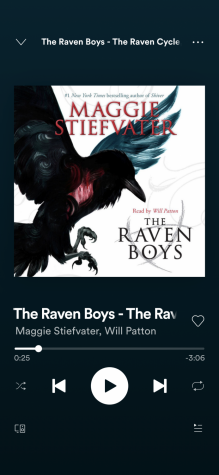 Some podcast form books on Spotify are "Jane Eyre" by Charlotte Bronte, "Persuasion" by Jane Austin, and "Great Expectation" by Charles Dickens.
Some album form books are "You Should See Me in a Crown" by Leah Johnson, "I Wish You All the Best" by Mason Deaver, "The Hunger Games" by Suzanne Collins, and most of Maggie Stiefvater's books including "The Raven Cycle" and "The Wolves of Mercy Falls" series. I highly recommend anything by Maggie Stiefvater as she is my favorite author.
I can not give a full list of audiobooks, but searching on Spotify is fairly easy and hopefully they will have the book you want to listen to.
My sister, Autumn Leber believes it is "going to Spotify than paying for audiobooks on Auditable or something." She remarks that "Audiobooks can be expensive but on Spotify we can have music and our books."
Debi Kane mentioned how "most people already have Spotify anyway. It is a natural transition to listen to a book as well as music." She continues, "It's brilliant. A person like Kyle (her son) who is working but also needs to read a book can listen on their phone for free and streaming."
I think everyone should look into the books on Spotify and find out if the platform will work for you. Happy listening!