Sport Cars for Teens
At 16 most people are getting their license, which means they need a car- and some want fast cars. So what sporty cars are best for teenagers wanting a new sporty car and new drivers? This is mostly personal preference, but some cars are what teenagers want to drive.
#1 Subaru BRZ/ Toyota 86. These are great entry level sports cars with nice sporty styling. Sure they might not be the fastest car on this list, but articles claim that they are fun to drive, a bonus to the car is having good fuel economy, 24 city/ 32 highway. It has a 200-horsepower 4-cylinder engine making it not too powerful but still a fun experience. These cars are great for easy modifications.
#2 Mazda Miata. These have grown in popularity in the last few years. The Miata comes with a four-cylinder engine that delivers just enough power to make it feel bold, perfect for driving through curvy sections of road. It comes in both a soft-top convertible model and a power-folding hard-top called the RF, allowing for fun in the sun. The Miata's cabin is tight for two spaces, but it wasn't made for road trips, it's designed for sunny drives and track days. The soft top model ran from zero to 60 mph in just 5.7 seconds, pretty fast for a small car like this. The 2.0-liter engine manages relatively high EPA fuel-economy numbers of 26 mpg city and 35 mpg highway. This is a great option for those who don't care to drive friends around and want a sporty car.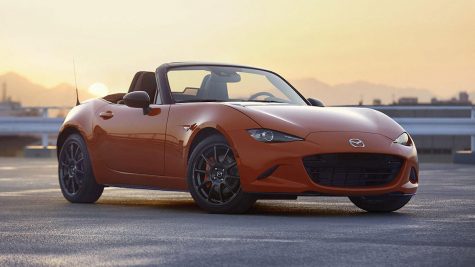 #3 Honda Civic Si. The Civic Si comes as either a coupe or a sedan. Both are boosted by a 205-hp turbocharged four-cylinder that feeds the front wheels through a manual transmission. It's still an exceptional performance value and cheaper than sporty alternatives such as the Volkswagen Golf GTI and the Subaru WRX. The car is light enough that you won't really want more than the coupe version 0-60 mph in 6.3 seconds, but it could always go a little faster. This is another cheap, tunable car that is fun, sporty, and great gas mileage all together. Edmunds.com stated, "Thanks to its well-tuned suspension and strong engine, the Honda Civic Si is a satisfying drive whether you're on a grocery run or tackling a favorite curvy road."
#4 Subaru WRX- The WRX produces a 268-hp turbocharged flat-four-cylinder engine with a standard six-speed manual or an optional continuously variable automatic transmission (CVT). The EPA estimates that the WRX with the standard manual transmission will earn 21 mpg in the city and 27 mpg highway and the automatic version sees those ratings drop to 18 mpg city and 24 mpg highway. The car is made for hard driving. You can also get the more expensive WRX STi that comes with a turbocharged 2.5-liter flat-four which is a more sporty version of the car with better performance. CarandDriver.com stated, "might be one of the quickest and most powerful sport compacts available for less than $30,000, but it's also one of the least civil."
#5 Volkswagen Golf GTI. The first hatchback on the list and a great one at that. The Golf GTI is powered by a turbocharged 2.0-liter four-cylinder that develops 228 horsepower. It can deliver 0-60 time in just 5.4 seconds which is a fast car for a teenager. According to the EPA, the automatic model is the most efficient with ratings of 24 mpg city and 32 mpg highway; going with the manual reduces those numbers to 23 mpg city and 30 mpg highway. Being a hatchback it has more room in the back than most of these cars which is great in the long run. CarandDriver.com stated, "Highs More fun than many cars twice the price, quick responses and acceleration, slick manual and smart automatic."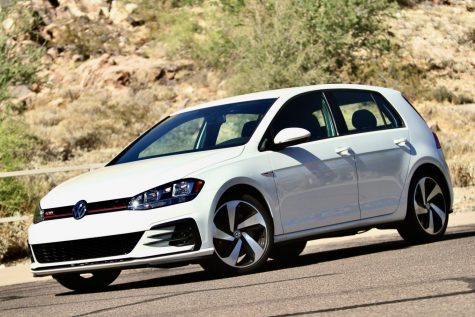 #6 Nissan 370z. The 370z with a responsive 332-hpV-6 and nimble handling, the Nissan provides effortless fun. Although not much has changed with this car over the many years it has been out it still is a fun car nonetheless. It has plenty of options for the car but might not be a top pick for most, design wise. The car is quick, sporty, but just outdated. It's a 2 seater so like the Miata if you want to take friends along, you only can take one. Edmunds.com claimed, "The 370z is the last of its kind and it is worth every penny."
#7 Ford Mustang. Of course this car is best with a V8 but since this is for a teenager it's probably more appropriate to get the turbocharged four-cylinder. But if I were someone to get a Mustang I would look for a used one that has a V8 because it probably will be a lot more fun. The current Mustang EcoBoost's standard turbo four-banger makes 310 horsepower and 350 lb-ft of torque which honestly is still pretty good especially comparing it to these cars that don't have as much power. Combined/city/highway: 22–23/19–20/26–28 mpg. All in all a fun car that looks good.
There are a ton of other cars out there, but these are what I think are best newer sporty cars for teens. Some honorable mentions are, BMW 335i coupe, Chevy Camaro, Ford Focus ST, Ford Fiesta ST, Hyundai Genesis Coupe, INFINITI G35/G37, Dodge Challenger, list goes on and on. If you do want a sports car make sure you do your research and test drive them to make sure that it's the car you want.