How COVID-19 Destroyed Senior Year
This senior year has been incredibly disappointing for everyone. There's no point in beating around the bush, the year has been a complete disaster from beginning to end. I admire the attempts of some groups on campus to make fun senior activities, even if they were too restrictive to be fully enjoyable. There wasn't much to work with, and they tried their best, but a drive through prom or socially distanced prom isn't the same thing as a regular prom, and I get the feeling that others felt pretty disappointed despite their best efforts.
There's a certain vibe inside of classrooms that I've noticed that just doesn't sit right with me. So many classrooms are dead silent, and I see teachers desperately trying to get some excitement going in the room, only to be greeted with complete silence and aimless stares from students. I find myself the most talkative person in many of my classes, which I never thought would happen, as I was always one of the quieter students throughout my high school career. It appears there are a lot of detrimental psychological effects that I don't think the people making public policy fully accounted for. Being forced inside for months, having the message of "stay away from other people" drilled into people's heads, and having to wear a mask behind a thick wall of plexiglass, even after getting the vaccine, has completely destroyed the social skills of young people, and I think what we saw in classrooms proved that.
Currently, most politicians and businesses will simply "listen to the experts" because they know best about what to do. In many ways, that's true, as they have plenty of medical knowledge and their input should be valued. At the same time, they are not experts on everything, and are either unaware or apathetic to the psychological damage their restrictive policies are doing to America's youth. The energy that was once there has quickly evaporated. Students aren't able to see all of their friends at school anymore and have nothing to look forward to in their final year of adolescence. Instead of cherishing the final weeks of high school, begging not to leave, students are treading water waiting for the clock to run out. This isn't normal, and pretending that students can continue doing this for an indefinite period of time is unworkable.
That's why when people like Bill Gates say things such as, "But we can see now that somewhere between 12 and 18 months, we have a chance, if we manage it well, to get back to normal" are so insulting. I don't think Bill Gates knows or cares that much about the damage of shutting down for another year, because he has largely avoided having to do what everyone else is doing. In fact, Gates has benefitted from the lockdowns. His company, Microsoft, is doing quite well, with Reuters reporting, "The company's shares rose 5% in extended trading after gaining about 41% in 2020 as COVID-19 shifted computing to areas where the software maker has bet big… the shift to work from home due to the COVID-19 pandemic has accelerated enterprises to cloud based computing, benefiting Microsoft and rivals such as Amazon.com Inc's cloud unit and Alphabet's Google Cloud."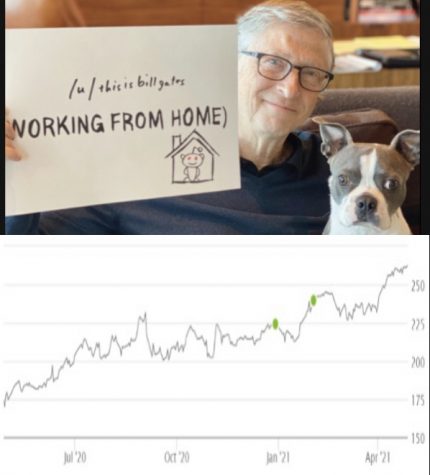 In other words, people who have a disproportionate amount of wealth and influence in this country, such as the billionaires and companies I mentioned, have little personal incentive to work towards a quick solution, because they are the ones benefitting from the shutdowns. As a result, this negligence has hurt just about everyone else around the world, including young people like the ones that are in their senior year. So while the "experts" may have all the knowledge when it comes to preventing transmission and how epidemiology works, they have no idea how much these restrictive policies have destroyed the lives of aspiring business owners, families struggling to put food on the table, and of course, the youth of the nation, the next generation to help lead the world.
A lot of ordinary people will be affected by this period of time for the rest of their lives. These young people were told that their senior year would be the culmination of all their hard work, and the start of a new chapter in their lives. Instead, for two straight classes, they won't be going out with a bang, but with a whimper. It's really unfortunate because I know a lot of excellent people that worked very hard all their lives, and I feel as if they should've been able to participate in fun senior events and celebrate their accomplishments in front of all their friends. So while it's important for everyone to be safe, it's equally is important to be mentally sound, and policy that balances the two should be the plan going forward. That way, we can make sure future classes don't have to deal with what the classes of 2020 and 2021 did.
Luckily things appear to be getting better, with Rochelle Walensky of the CDC recently saying, "Anyone who is fully vaccinated can participate in indoor and outdoor activities, large or small, without wearing a mask or physically distancing." This development is very good news to hear, and will bring a far better school experience to future classes, with a return to regular life seeming more and more inevitable.