Important Dates for ERHS Seniors
This has certainly been a long and difficult school year, but it is quickly coming to an end. ERHS seniors have a lot of fun events to look forward to, not just the AP tests that start next week.
Cap and gown pickup already occurred on April 27 and 28. It marked the beginning of the graduation process and reminded us all that amidst us dealing with senioritis and other stressful events, we still have something to work towards and look forward to: graduation.
On May 12, it will be Counselor's College Signing Day. The AM Cohort will take place from 10:15-11:15 p.m. and PM Cohort and Virtual will take place from 2:45-3:45 p.m. in the Quad. On the same day will be the Senior Awards Night, which is invite-only.
The last day of actual school for seniors is May 20, as senior finals are currently scheduled for May 19 and May 20. These dates are only for seniors, so freshman, sophomore, and junior finals will not be on these dates, but will be a few weeks later.
Textbooks and school electronic devices also need to be returned by May 21, so be sure to keep that in mind!
Finals and textbook returns aren't exactly the most fun things, but luckily the school has been working on scheduling more typical senior events that we thought we might miss out on. On May 21, there will be a Senior Sunset event. There will also be a drive-through movie. More information will likely come as we get closer to the date.
There will be a special event for STEM seniors only on May 26: the eSTEM stole ceremony. The STEM stoles can be purchased here, and STEM seniors can reserve a spot here. There are two time sessions to enforce social distancing, one at 5:00- 5:45 p.m. and one at 6:30- 7:15 p.m.
According to ERHS principal Dr. Anderson, "We will also be doing a stadium rally for all students the last week of May—exact dates/times are to be determined."
Finally, the day we have all been looking forward to, graduation is scheduled to be on June 1 and June 2. If you selected the drive-through option, graduation will be on June 1 from 5-7 p.m. If you selected the in-person option, graduation will be on June 2 at 9 a.m., 3 p.m., or 7 p.m. Right after graduation, June 3 will be cap and gown returns and diploma pick-ups, the times, however, are still being determined.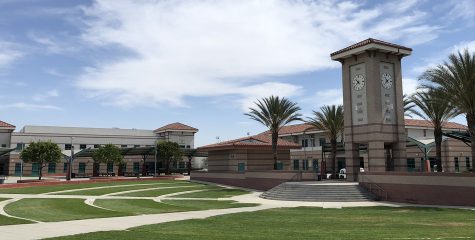 "Seniors, we are so close to the finish line," said ASB President, Annie Nguyen. She continues to encourage her fellow seniors by saying, "cherish what you can with the little time we have left with each other."
We are so close to the end of the school year, and though this has been a difficult time for everyone, you have all done a great job at persevering!
To close off this article, I will leave you with a message from principal Dr. Anderson: "To our Class of 2021 Seniors—you have endured and persevered like no other. We have not seen 'normal' in over a year, but you pushed on. You made it happen! In a time of so much uncertainty, so much unrest, and so many challenges, you kept your eyes on the prize and made it to this point. I admire your strength through adversity, and your grace under pressure. Go out and be the agents for change you are meant to be, and remember to always focus on 'Being the Best at Getting Better!' Mustangs, we could not be prouder of you, you are a great representation of ERHS and the City of Eastvale! Go Mustangs!"