Fearless (Taylor's Version): A Review
If you've been following Taylor Swift or are a fan of hers, you likely know that she is in the process of re-recording her first six albums: "Taylor Swift," "Fearless," "Speak Now," "Red," "1989," and "Reputation." If you didn't know, well now you do! She is doing this in order to gain back the rights to her albums, as the old versions do not belong to her.
On April 9, she released "Fearless (Taylor's Version)." It has all of the original songs from "Fearless" as well as songs that never made it onto the album. You may be wondering why this is such a big deal, if most of the songs have been out since 2008. Well, despite holding a lot of significance to Swift because she now owns her own music, it also shows how far she has come vocally. There is a noticeable difference in the 2008 and 2021 versions of the Fearless songs, and it is emotional to hear how she's grown up.
The album features six new songs, or songs "from the vault" as she puts it, that had never been released: "You All Over Me," "Mr. Perfectly Fine," "We Were Happy," "That's When," "Don't You," and "Bye Bye Baby."
Each has Swift's old signature country feel, and transports you right back to 2008. My personal favorites from the vault are "Mr. Perfectly Fine" and "We Were Happy."
"Mr. Perfectly Fine" details a post-breakup situation in which the guy is completely fine and the girl is falling apart. It has both pop and country aspects, which almost reminds me of Swift's album "Red" as a whole. It is extremely catchy and is reminiscent of teen romance, much like the songs "Cardigan," "August," and "Betty" off of the album "Folklore."
"We Were Happy" is a much less upbeat song, and it has more sad undertones. As the title hints at, the song is about thinking back on the good parts of a relationship and missing them, even if things went sour and didn't end happily. Each Taylor Swift album needs at least one sad, staple breakup song such as "All Too Well" from "Red" and "Dear John" from "Speak Now," and I believe that "We Were Happy" could be that song for "Fearless."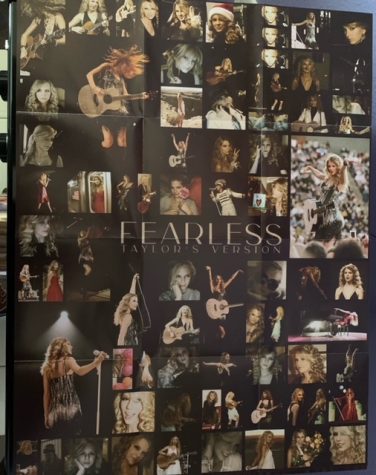 As for the re-recorded album as a whole, it retains a perfect amount of the original magic and sound from 2008 "Fearless" while also adding in aspects of 2021 Taylor and how she has grown both vocally and as a person. As a long-time fan of Swift, I remember listening to some of these songs for the first time, and listening to the "Taylor's Version" of each one was like hearing them for the first time all over again.
"Fearless" in particular was a great choice for the first re-recorded album release. It has so many of Swift's iconic and well-known songs such as "You Belong With Me", "Fearless", "Fifteen", and "Love Story." However, it also has many lesser known songs such as "The Way I Loved You", "Breathe", and "Tell Me Why", each of which are some of my favorites. These songs are now able to get more attention, as they are brought back into the public eye.
In fact, "Fearless (Taylor's Version)" is opening Swift's music to an entire new generation of fans. Many Swifties were too young to enjoy Fearless when it first came out, or were not even born yet. They have just heard her newer music, and aren't aware of so much of her great older music. With each re-recorded album coming out, they will be exposed to all of the songs that they have missed and can grow to love them as much of some of us older Swifties.
In a New York Times article about the album, Jon Caramancia noted how it "might feel different for younger fans encountering these songs for the first time" or for fans who are discovering Taylor "pop superstar backward, rather than from the beginning forward."
By impacting each age group in a different way, the album can take on so many different beautiful meanings. Swift has been dominating the music industry for so long, which is an extremely unique attribute and gives her one of the most unique fanbases.
Caramancia continued that "It is also savvy marketing, especially for an established star with a deep catalog, to simply present your old music as new."
Of course, Swift's intention wasn't to just make money off of "Fearless (Taylor's Version)," but it is true that it is a smart tactic. It allows fans to listen to their favorite Taylor songs without feeling guilty for giving money to the owners of the old versions of Swift's albums.
In the same article, Lindsay Zoladz noted that listening to "Taylor's Version" for the first time both "warmed [her] heart and hurt [her] brain."
I felt the exact same way, as she perfectly puts it, because on one hand "it is certainly triumphant to hear Swift gradually reclaiming ownership of her catalog" and there is "something stirring in hearing the 31-year-old Taylor trace over the wide-eyed lyrical musings of her 18-year-old self."
However, just as Zoldaz was, I was "playing the sonic game of spot-the-difference," trying to identify any miniscule difference in the 2008 and 2021 versions of "Fearless." Maybe that is just because as a fan of hers, I pay attention to every little detail, but there is no denying that it was striking to hear 31-year-old Swift sing songs that she wrote when she was so young.
I could rant about this album forever, but for the sake of your time I'll sum up my final thoughts. I enjoyed "Fearless (Taylor's Version)" even more than I thought I would, if that is even possible, and I cannot wait to see what she does with the five other re-recorded albums. Speculation is that "1989" will be next, but we'll see!
If you haven't listened to the album yet, I highly suggest you do! You can listen to it on Youtube here or on Spotify here.