Prom 2021
Prom is inarguably one of the most important moments of high school. Unfortunately for the class of 2020, they did not get the opportunity for senior Prom due to COVID-19. However, things are looking up for the class of 2021.
Since there has been more time to spend planning, Prom for this year is starting to become a reality. When paired with lowering COVID-19 cases in California, CNUSD schools were able to come up with a Prom experience for this year's seniors.
CNUSD high schools, including ERHS, Centennial, Norco High, and more, are offering a drive-through Prom experience or "Prom on Wheels."
It is described as a "once-in-a-lifetime one-mile immersive drive-thru prom celebration."
On the Prom on Wheels website, they note "From the Red (carpet) Tunnel arrival to the incredible theme sets, you'll enjoy synced audio with show elements which include visual displays of lights, interactive performances and special effects."
It is a "unique and fun alternative to the traditional prom experience that will deliver memories for a lifetime."
The experience is "filled with epic audio and visual displays, live performances and entertainment, while being in compliance with all county, state and health department guidelines."
This event will occur on Friday, April 30 from 8 p.m. to 10 p.m. at the OC Fair and Event Center in Costa Mesa, California.
Ticket prices depend on how many people are in your party. There are two options: $79 for vehicles with up to 5 passengers or $99 for vehicles with up to 8 passengers. If you split the cost between 5 people, it comes out to $15.80 per person. If you split the cost between 8 people, it comes out to $12.40 per person.
Your vehicle cannot be larger than 8 feet high or 16 feet long, likely due to space limitations in the drive-through experience.
There are a limited number of tickets available, so make sure to get yours as soon as possible if you are interested! It is open for all CNUSD seniors to attend.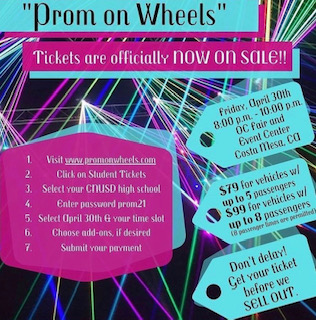 Tickets are officially on sale now. To purchase tickets, go to www.promonwheels.com and click on Student Tickets. Select your CNUSD high school and enter the password prom21. Select April 30 and your time slot, and choose add-ons if desired. Lastly, submit your payment.
As a side note, the flyer notes that the event is County, State, and Health Department compliant.
Though us seniors have already missed out on a lot due to the pandemic, Prom in particular would have been a hard loss. This is an amazing experience to have a night you will never forget. Though this year's Prom doesn't look exactly like how we all expected our senior Prom to be, it is great that we are getting the opportunity to have one.
The website also mentions that the event will be "a PROM that touches on ALL of the key elements that traditional proms typically provide but on an EPIC level."
Some of the aspects they mention include:
A Red Carpet tunnel arrival
Life size props, stages, and special effects
Music controlled by a DJ as well as pulsing lights, video screens, lasers, and fog
Shadow dancers that create the illusion of being on a dance floor
LED monitors
Prom Court and crowning ceremonies
A disco ball exit tunnel
A prom photo
This is an extremely unique experience and a Prom event like no other class has had. There are many parts of our senior year we will want to forget, but this is certainly not one of those.
If you would like to hear more updates regarding Prom, or just senior events in general, follow @erhsco2021 on Instagram. You can also find more information regarding the venue by checking out @electricmilefun on Instagram.