2021 MLB Baseball Preview: Opening Day
The beginning of the 2021 Major League Baseball season is almost upon us, and Spring Training is starting to wind down with only a few weeks left to go. This time around, the COVID pandemic is not going to prevent the season from starting on time in April, opposed to last year, which started in late July.
Instead of 60 games, all 30 teams are now scheduled to play all 162 games as is the typical arrangement. The Major League Baseball Players Association released a statement saying, "The MLBPA Executive Board and Player leadership reviewed and discussed the owner's proposal throughout the weekend and today. The clear cut result of these deliberations is that Players will not accept MLB's proposal, will instead continue preparations for an on-time start to the 2021 season, and will accept the MLB's commitment to again direct its Clubs to prepare for an on time start."
Though the regular season was significantly shorter last year, and is argued if it can even count as a legitimate title, the Los Angeles Dodgers emerged as the world series champions. Since that triumph, they have only added more to their already impressive roster with Trevor Bauer, the 2020 Cy- Young winner, signing for a whopping 102 million dollar deal for three years. It is a move that shocked the league, as Bauer was the most prized free agent on the market, and the Dodgers were an unexpected suitor, considering how much money was on hand, and their already formidable starting pitching rotation.
Another big move was the Colorado Rockies trading their all star third baseman and franchise player, Nolan Arenado, to the St. Louis Cardinals for a pretty minimal price, only netting a few potential prospects, and not even the Cardinals' best at the time. Aside from these two moves, the Cleveland Indians trading all star short stop Francisco Lindor and historically successful pitcher Carlos Carrasco to the New York Mets was among the highlights. On top of that, Blake Snell, former Tampa Bay Rays all star pitcher, as well as Yu Darvish from the Chicago Cubs were traded to the San Diego Padres, who have quickly emerged as a legitimate contender for the World Series, with all their young talent finally beginning to blossom.
As an Angels fan, I was delighted to hear that short stop Marcus Semien of the Oakland Athletics and outfielder George Springer of the Houston Astros would both be leaving their teams and heading to the Toronto Blue Jays far far away from the American League West division, where the Angels do not have to play them quite as often.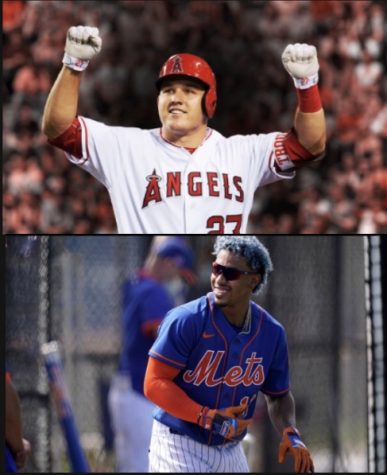 There are going to be a lot of close divisions this year such as the National League West, with the defending champions, the Los Angeles Dodgers, with big names such as Clayton Kershaw, Trevor Bauer, Mookie Betts, Cody Bellinger, and Corey Seager, and the emerging powerhouse, San Diego Padres, with players such as Fernando Tatis Jr, Manny Machado, Blake Snell, Eric Hosmer, and new addition from South Korea, Kim Ha-Seong.
These two teams are projected to be among the top two best teams in the entire league according to Sportsnaut, stating, "Even without Trevor Bauer, the Dodgers' rotation gave San Diego competition for the league's best pitching staff" as well as "The Padres have depth, a great bullpen, and an outstanding farm system. Everything you could ask for is in place to compete for a world series. This NL West battle will be incredible."
Another close division to watch is the AL Central, with the Chicago White Sox, Minnesota Twins, and the Cleveland Indians having a shot to win the division. The AL East is also a very competitive division, with the almost always talented New York Yankees, the newly powerful Toronto Blue Jays, and the Tampa Bay Rays, who were in the World Series last year.
In additional news, fans are going to be returning to every ballpark in the country in some capacity, including states with stricter lockdown measures such as California. With that fact in mind, it means that you may be able to return to Angel Stadium in Anaheim or Dodger Stadium in Los Angeles and go to a ballgame for the first time since the year of 2019. This of course is incredibly good news for everyone, as going to sports games and getting back to life prior to the pandemic was the goal for a long time, and this is a big step forward in achieving that goal.
Just for fun, here are my some of my predictions for who will make the playoffs in this year's season:
AL East: Yankees
AL Central: White Sox
AL West: Angels
AL Wild Cards: Blue Jays, Twins
NL East: Mets
NL Central: Cardinals
NL West: Dodgers
NL Wild Cards: Padres, Braves
All in all, this season is looking like it will be a lot of fun to watch, with more than its fair share of exciting teams, interesting divisions, and with fans returning to the ballparks across the nation. It is most certainly a welcome addition back to the days that many people across the country have been missing, as they look for a distraction from the pandemic and political climate. As baseball starts, and as the pandemic slowly begins to wane, a triumphant return to the baseball diamond only seems increasingly inevitable at this point in time.