Everything You Need to Know About the 2021 Grammys
The COVID-19 pandemic has affected many aspects of life, one of those being the 63rd annual Grammys. Traditionally, the Grammys are held every January 31. However, it was postponed due to safety concerns regarding the virus.
The Grammys are held in Los Angeles, and in December/January, the hospitals and ICUs were full and overwhelmed. Since then, the situation has improved, likely due to the distribution of the vaccine.
They will now be held this upcoming Sunday, March 14. A few days ago, the lineup was released for who will be performing.
There are many performers, so I won't be going over every single one, but if you would like to access the entire lineup click here.
One highly anticipated performance, and one I am particularly excited for, is Taylor Swift. This is certainly not her first Grammy performance, nor will it be her last.
She has become a staple name in the music industry and never disappoints with her performances. One particularly memorable performance of hers was of "All Too Well" at the 2014 Grammys. It was very emotional and showed her range as an artist. If you've never seen it, you can watch it here!
Since the last Grammy award ceremony, Swift has dropped two albums: "Folklore" and "Evermore." Since "Folklore" is the album up for multiple nominations, I am predicting that the song(s) she performs will be from that album. "Cardigan" is a likely option, as well as "Betty."
She has six nominations this year, an upgrade compared to the three nominations she received in 2020 and the one nomination she received in 2019, none of which she won.
Another highly anticipated performer is Harry Styles. This will be his first Grammy performance, and it is also his first Grammy nomination.
Despite the worldwide success of One Direction, the boyband never once received a Grammy nomination.
This year, Styles is nominated for 3 Grammys. Each of them is for songs off of his sophomore album "Fine Line", which was released back in December 2019.
I suspect that he will sing either "Watermelon Sugar" or "Golden", as those seem to be his most popular currently. He could also sing "Adore You," as it is nominated for the music video category.
I have been a fan of Harry's since the old days of One Direction, so I am personally excited to see him finally get the recognition he deserves.
I spoke with fellow Styles fan Jade Huerta on her feelings regarding his nominations and upcoming performance.
She said that seeing him as both a Grammy performer and nominee she is "ecstatic" as she has "looked up to him, and the rest of One Direction, for a long time now and seeing one of them go on to the Grammys is bittersweet."
It feels bittersweet because it is "sweet in the sense of his talent finally getting the recognition he deserves, but bitter in the sense that the rest of one direction is sort of ignored and not given enough recognition."
She continued, saying that "'Fine Line' was definitely a masterpiece of an album and deserves the nomination."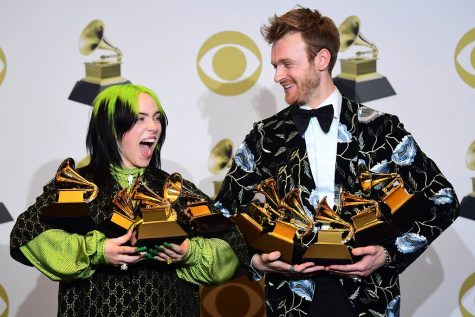 Other performances will come from BTS, Billie Eilish, Doja Cat, Bad Bunny, Dua Lipa, Post Malone, and Cardi B.
Though many are excited about the Grammy performers and the artists who have been nominated for awards, many are upset that other artists didn't received nominations and say they got snubbed.
Zayn Malik, former member of One Direction and current solo artist, had some words to say about this. In a tweet he said "Unless you shake hands and send gifts, there's no nomination considerations."
He jokingly added "Next year I'll send you a basket of confectionary."
Some were confused at this message and thought he was referring to himself. His most recent album "Nobody Is Listening" was released in January of 2021, making it ineligible for the 2021 Grammys.
He later clarified what he meant with another tweet, saying "My tweet was not personal or about eligibility but was about the need for inclusion and the lack of transparency of the nomination process and the space that creates and allows favoritism, racism, and networking politics to influence the voting process."
The Grammys have been getting heat for this exact reason for many years; this is not a new perspective. It is significant, though, that a well-known artist decided to speak up about it.
Back in 2019, Ariana Grande did not perform at the Grammys even though she was scheduled to. This was due to disagreements regarding which song she would be allowed to sing. The artist felt insulted at the lack of respect given to her and decided to skip showing up to the awards ceremony in general. She did make an appearance at the 2020 Grammys, though.
There are many differing viewpoints on the Grammys, and many other awards shows that have similar issues. Of course no one is perfect, and artists with large platforms are finally making their opinions heard.
Regardless of how you feel about the Grammys, it is safe to say that the lineup for this years performers is exciting and you won't want to miss it!