College Decision Season is Upon Us
Many things have been taken from the class of 2021, but one thing that hasn't been taken from us is the tumultuous months of March and April where millions of seniors are receiving their long-awaited college decisions. This is both a nerve-wrecking and an exciting time, as of course we want to know if we got into our top picks or not, but then again we kind of don't want to know.
Right about now, all of us regular decision students are envious of the early decision kids who are committed to a school already. Some regular decisions have been released, such as for Cal State Fullerton, Cal Poly Pomona, UCR, and Cal State Long Beach.
As for the majority of other schools, decisions are set to come out sometime in March or April. Most of the UCs are releasing admission decisions in mid-March, as with the remainder of the Cal States.
One significant change to admission decisions is for the Ivy League schools. Usually, so-called "Ivy Day" where the Ivy Leagues release admission decisions is sometime in March. However, due to a sharp increase in applications, Ivy Day has been moved to April.
In fact, the number of applicants to virtually every college has drastically increased this year. This has certainly increased stress and caused students to be more worried about getting into even supposed safety schools. Not to mention that COVID has messed up multiple aspects of the traditional senior experience of college admission.
It is a lot harder for students to receive support and assistance remotely. Counselors and teachers have both encouraged students to reach out and have been great at finding other ways to connect, which has been amazing. Unfortunately, some students have difficulty reaching out in this way, or at all.
Applying to college typically is considered a social event, with the involvement of friends, family, teachers and counselors. However, this year it has been particularly lonely, as we are all doing it in isolation. The only news you might hear from some of your past close friends is their post of an acceptance letter to a college you didn't even know they applied to on their Instagram story.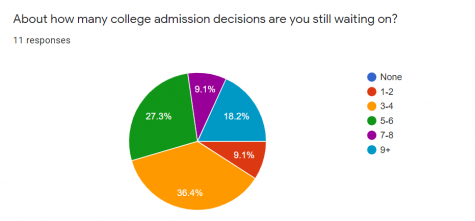 The class of 2021 has certainly had a unique experience with this, so I conducted a survey to give current seniors a chance to share their thoughts regarding college admissions this year.
One current senior, Joshua Agubata, noted that "most competitive schools have seen anywhere from a 10% to 30% increase in applications and chances are all those extra students are still qualified."
However, he added that "this doesn't worry [him] because [he] can't do anything about it."
I think that this is an important perspective to have. Though this year's process of applying to college is particularly stressful, there really is nothing we can do about it. You may face disappointment, but the fact is that there was such a large mass of students applying that your rejection could simply be because there wasn't space.
Of course, this does not diminish the accomplishments of those who have gotten acceptances.
Another senior, Jacob Macayaon, brought up the point that "the lack of an SAT makes it so that there's no equalizer to differentiate students, for GPA's, grades, and ranks can be inflated."
This caused him to feel "incredibly anxious" and wonder how "he fare[s] against his peers" because he "took some risks."
He joked that his "whole worth is based on this next month."
It is extremely common to place a lot of weight behind your college rejections and acceptances, and to feel as if you failed if you get rejected.
However, even if you get rejected from every single school you applied to, there are still so many options. We are only 17 and 18 years old, and we have our whole lives ahead of us. One little letter from a college cannot prove or disprove our worth.
I encourage you to focus on all of your accomplishments throughout high school and how you have persevered, even through a pandemic, and made it this far.
Though it can be disheartening to receive rejection letters, it is not a reflection of you as a person. Try to focus on the positive and possibilities you have been offered by the colleges that did accept you. It may not feel like it right now, but you will end up right where you are meant to be.
Your family, friends, and teachers are all proud of you! Keep up the good work and good luck on any decisions you are anxiously anticipating.