Senior Yard Sign Pickup and Upcoming Senior Events
Unlike the class of 2020, the class of 2021 has had to put a pause on all senior events and activities for the entirety of their last year of high school. Despite this unfortunate circumstance, the ASB and the Senior Class Council have been working hard to plan and hold senior events that would follow the CDC regulations and would be safest for seniors.
An important upcoming date for seniors is the senior yard sign pick-up, which will be held on March 2 from 3-6 pm. It will take place in the student parking lot, following the setup of the February Senior Social. Rather than it being an event, this will be a gift distribution.
"The district generously donated this to every senior without charge," said David Lopez, the president of the senior class council. "We are planning on hosting it in the back parking lot and don't really plan on keeping students or parents too long."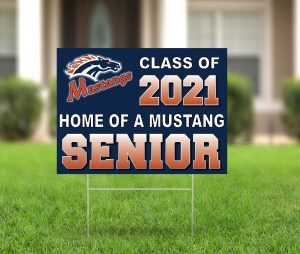 The signs will include the mustang logo, the graduation year, and the words "Home of a Mustang Senior."
"These signs are a great way for the community to recognize the class of 2021 throughout the district," said Gracie Yang, the vice president of the senior class council.
ASB and the senior class council have announced that they are working together to hold a minimum of one event per month for the class of 2021. Though this is not final, since the situation is always changing, they plan to release more details as the time approaches.
As of now, most events will be drive-thru oriented in order to abide by CDC COVID-19 guidelines, which will reduce the risk for seniors and their families.
"We will be enforcing COVID-19 guidelines at all events by taking all the necessary precautions and enforcing social distancing/wearing face masks. With all our events, we plan for the worst, but hope for the best in case of unforeseen circumstances," said Lopez. However, depending on the circumstances, it may be possible to provide more than a drive-thru.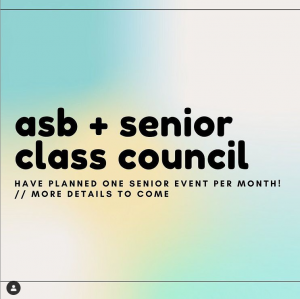 Seniors are recommended to follow the senior class council's Instagram page (@erhsco2021) in order to get the most recent updates on senior events. It is strongly encouraged to reach out to their Instagram page in order to ask questions or provide feedback.
"I understand these events do not make up for the loss of traditional senior functions nor the grief that comes with it. I can only hope our events give our seniors something to look forward to each month and contribute a form of happiness in this difficult time," said Yang. "We appreciate every single one of you and applaud you for pushing through this difficult time. Please have faith in your student leaders and ERHS administration and understand we are doing our best under the circumstances."
Lopez also encourages the class of 2021, saying, "I know this is not at all what we had imagined our senior year would be like, but let us not lose hope and give up now. By hosting an event every month, we strive to provide light in a dark time. Thank you all for your patience, cooperation, and support."