Archive of Our Own is better than Wattpad
Lets be honest, we all had our awkward y/n Wattpad fanfiction phase in middle school, but one day we need to put childish things aside and make an Archive of Our Own account!
Its okay to admit that Wattpad has gone to the dogs. Wattpad was once a work of art, but now there are commercials every other chapter, fic quality has fallen apart, the filter system is a mess, and there is no way to know what you are getting into reading until your half way through and thoroughly disappointed (or lets be real- absolutely disgusted). Wattpad is a dying star. Archive of Our Own (Ao3) however is running the fanfiction world.
Archive of Our Own is a nonprofit "hosting site for transformative fanworks such as fanfiction," according to their website. The site continues by explaining how Archive of Our Own "is built on open-source archiving software designed and built by and for fans." Being a nonprofit, the site is entirely supported by donation and volunteers. This means a lot to users because there are no ads! There is an annual donation campaign, but other than that, there are no pop ups or interruptions to your reading. Even the annual donation is a small banner at the top of your welcome page.
Caspian Estevez says that unlike Archive of Our Own, "Wattpad has become more of a place of original works being capitalized upon by a company. The place is littered with ads if you do not pay their fee, which didn't exist before, but does now. Archive has no ads, notifies its users when they're doing maintenance, and has news about the website on its home page."
Estevez loves that "Archive is a place for fans run by fans, making it the Archive of Our Own."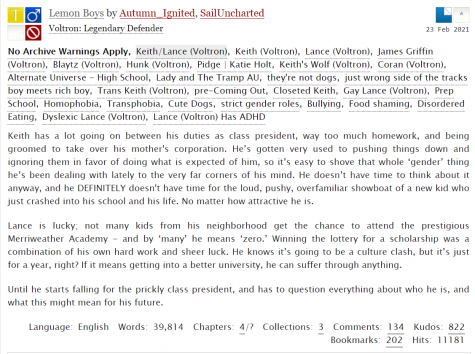 There are tons of other benefits than just not having commercials as well. The Ao3 tagging system is unmatched. All fics can have a parental guidance rating, content warnings, relationship dynamic category (aka is it a straight couple, queer couple, etc.), fandom, relationships, characters, language, and additional tags. Additional tags range from generic story stuff (fluff, angst, slow burn, etc.), information about the content of the fic (coffee shop au, villian!harry potter, eight year hogwarts), or author insert jokes like "dabi is quaking in his gucci flip flops". The author inserts rarely matter, but make the reading experience far more fun.
The tagging system is important because it can warn readers about content that might be triggering or uncomfortable. "Lemon Boys" (the fanfiction screenshotted above) has a transgender main character who is closeted and uses their dead name and pronouns, exploring gender dysphoria. This can be difficult for transgender readers and trigger their own gender dysphoria. On the flip side, transgender readers might actively seek out fics that have characters that represent themselves and their struggles because there is little transgender representation in the media. This is just an example tag. There are tons of other tags that help readers chose what fics they are going to read.
The tagging system makes the fic finding process better by using the tag filtering system. Users can search fics by including or excluding tags, sorting matches by a number of categories like likes or comments, word count, completion status, and more. This means you can tailor the shown fics to be exactly what you are in the mood for. I use the tag filtering system constantly!
Additional advantages I personal love are the "mark for later" option, subscriptions, and bookmarks. By marking a fic for later, the fic shows up in a special category of your history. It is similar to a "watch later" list of YouTube. You can subscribe to authors, series, or works, and get an email every time they update. Bookmarks allow you to save fics into a bookmarked folder. When bookmarking you can add little comments about the fics or series and add your own tags so you can find well loved fics later. The bookmarked category also has a tag filtering option to help find bookmarked fics. I currently have 266 bookmarked fics. This only scratches the surface of options on Archive of Our Own.
My friend Leo Bertolino is a self proclaimed "Wattpad veteran." He "used to love it so much. But it took down my first account for no reason and a couple days ago took down my second account, Wattpad doesn't warn people of triggers and barely shows the tags." His biggest con of using Ao3 is "that Wattpad uses covers and Ao3 doesn't."
This is only an introduction to Archive of Our Own. There is so much more for users to explore and learn about the site and how incredibly cool it is. Stop settling for Wattpad and make the move to Ao3. I promise you won't regret it.
About the Contributor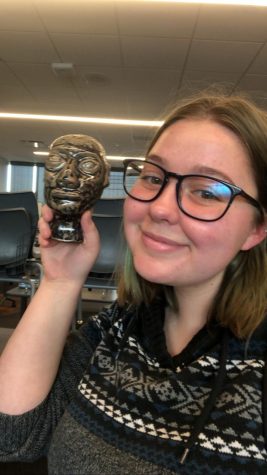 Brianne Leber, Editor and Journalist
Brianne Leber is a senior at Eleanor Roosevelt High School. She was drawn to journalism because of its ability to show different perspective to a large...