The Weeknds Halftime Show
Last Sunday wasn't just your routine weekend, in case you weren't aware it was the annual Super Bowl weekend set with the Buccaneers playing against the Chiefs; although this article isn't about the game or its plays. The subject at hand here is the annual halftime show and its main headliner, The Weeknd, as he performed a medley of some of his biggest hits.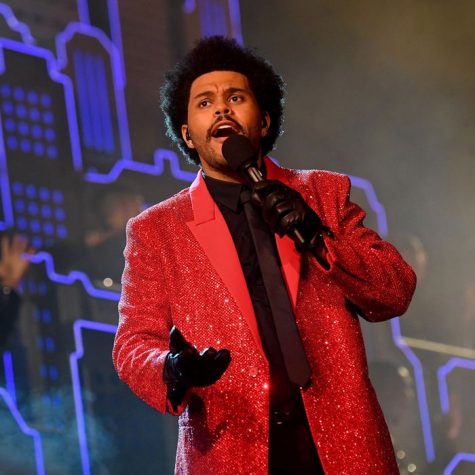 The Weeknd, for those who aren't familiar, is a rapper/R&B artist with a theme centered around his unique vocals and definitive style. This artist is behind some large debuts, such as "Beauty behind the Madness," and "StarBoy" and some more recognizable songs, such as "The Hills,"  which built up 1.6B views over the years. The Weeknd isn't unknown or underrated, after years of hard work he earned a position in the halftime show.
The theme for this year was centered around his latest album and biggest hit, "After Hours." An album with a strong focus on city lights, city life, and city strife; he dons a red suit top and black clothes underneath with glasses and a short cut afro as he goes through each song slightly altering his appearance.
In the halftime show he wore the same outfit from his song "Blinding Lights" on stage along with the background dancers sharing a similar appearance with white masks. The performance involved him dancing across an illuminated stage with his crew, going back in time with some older songs for the audience.
He states, " I definitely want to be respectful to viewers at home…I will still incorporate some of the storyline- it's a very cohesive story I'm telling throughout this year".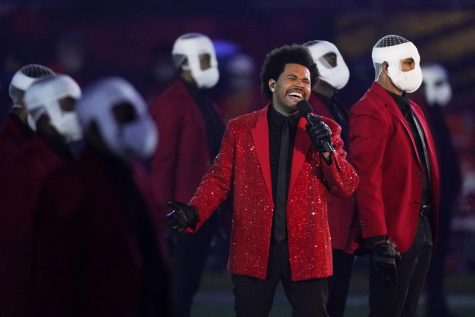 Eleanor Roosevelt football player Terrance Hills was engulfed in watching the game, and saw the halftime show as well.
Terrance: "I was never too familiar with the Weeknd, honestly man I was so focused on the game, but I recognized some of his songs when the show came around. I messed with them heavy (a lot), it was cool."
C.J: "I've been listening to the Weeknd for years man so all of the songs hit for me, I liked the fact that he even made it to a halftime show. Compared to others I thought he did pretty good too."
The young artist outperformed himself this year, and this will open up a lot of opportunities for his as the U.S witnessed his talent.