February Senior Social at ERHS
As a current senior, I think I can speak for all high school seniors when I say that this is not what we imagined our senior year to play out like.
Fellow senior Soumya Agarwal recollects that "As Mustangs, four years have passed since we first walked into the the halls of our lovely Eleanor Roosevelt High School. Our senior year might not have been what we had expected, however, resilience, dedication, and hard work shows in the Class of 2021."
When you think of what your senior year should look like, you think of spending time with friends, attending fun events, and getting accepted into schools you've always been dreaming of. It is the bridge between your teenage years and adulthood, and ultimately, the most important and impactful year in high school.
Unfortunately for the class of 2021, as well as the class of 2020, COVID-19 had other plans. The pandemic has made it almost impossible to do any typical senior activities , or even make memories with friends.
Some have been able to meet with friends a few times, following social distancing and mask-wearing protocols, but others have aired on the more cautious side and have not done anything with their friends since March 2020, the last time we were all in in-person school.
ERHS senior Sai Krishnan agreed that "this was not the senior year we all expected", but put a positive twist on it, saying she was "glad that [she] got to do it from home because [she's] always wanted to do school from home."
She expressed that she was "sad that we can't all be in person and socialize with our friends", but is hoping and looking forward to when "we do get to go back to school when it is just for a little bit."
Thankfully, an opportunity for ERHS seniors to reconnect before we all go on our way to colleges and jobs later this year has arisen.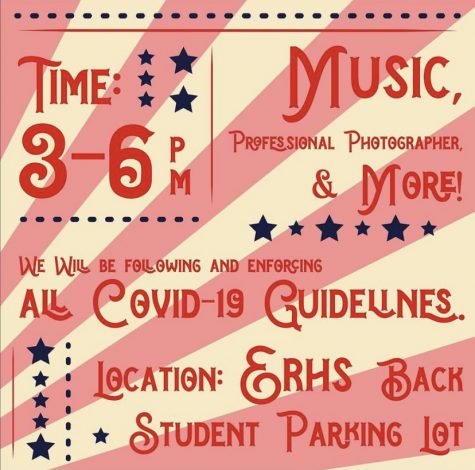 On February 19, from 3-6 p.m., there will be a senior social held at ERHS.
It will take place in the ERHS back student parking lot. All COVID-19 guidelines will be followed and enforced, including social distancing and requiring masks.
There will be music, a professional photographer, and more.
In order to attend, you must fill out this form: tinyurl.com/SNRfebSc.
This event is only for ERHS seniors, and you must fill out the above form, wear a mask, and social distance in order to attend.
This event is a great opportunity to forget about all of the responsibilities and stressors that come with being a senior and just simply have fun with friends. It is an unexpected beacon of light in the rather dark year we've faced.
Krishnan expressed her opinion of the event, saying that it is "quite cool that ASB and Class council are holding an event like this for the seniors especially since this is not the senior year we expected/wanted."
Things certainly are not easy right now, but moments like this can put everything into perspective and remind you of what matters.
Even if you are not able to attend this social, do your best to connect with friends and family virtually. It can really improve morale.
I just want to congratulate every Mustang for getting through the first semester of this school year. Keep the hard work up and remember your family, teachers, and friends are proud of you and are there for you!
I will leave you with a final positive note from Agarwal: "Let's make the most of our last semester as we're on the homestretch and finish strong as we strive to work towards, 'Be the best at getting better.'"