The History of Poetry and Presidential Inaugurations
Poetry is undeniably an important cultural element and it can encapsulate certain moments in history that ought to never be forgotten. Its powerful words, figurative language, and unique structure make it a particularly impactful way to deliver a message.
ELA and AP Literature teacher Rebecca Deragisch believes that "poetry at the Presidential Inauguration should happen every time" because poetry is "an incredible means of expression and a great way for a President to set the tone of their administration."
Not only does poetry give the elected President a way to make a statement, but it also allows "the audience to connect", as "listening to it, especially as a shared experience, can really bring people together," Deragisch continues.
Historically, at U.S. presidential inaugurations, there have been few readings of poetry. Many presidents-elect have opted to have a more speech-based inauguration, featuring fellow politicians and speakers. Many have even included musical performances. However, only a small number have placed importance on poetry.
In fact, only four U.S. presidents have had poetry read at their inaugurations. Those presidents are John F. Kennedy, Bill Clinton, Barack Obama, and finally Joe Biden.
In 1961, at the presidential inauguration of John F. Kennedy, Robert Frost read his poem "The Gift Outright," a poem describing early American life pertaining to colonization and connecting it to what America has and will become.
Frost was originally supposed to recite a poem called "Dedication" that he had written especially for the occasion. It more specifically pertained to the inauguration and referenced several founding fathers. However due to the sun's glare from the snow on the ground, he could not make out the words. He did not have the poem memorized, so he decided to read a poem of his that he did have memorized, which was "The Gift Outright."
After JFK's inauguration, there was not an inauguration where poetry was read until over 30 years later.
In 1993, at the presidential inauguration of Bill Clinton, Maya Angelou read her poem "On the Pulse of Morning", which was focused on unity. It contained many references to nature, such as rocks and rivers, and almost flowed like a song.
Maya Angelou is well-known, not only for her poetry, but also for being a civil rights advocate. One of her most well-known works, an autobiography, is called "I Know Why the Caged Bird Sings," and describes her life up to when she was 17 years old.
She has seven published autobiographies, several poetry books, and three books of essays.
Bill Clinton also had a poem read at his second inauguration in 1997. Miller Williams read his poem titled "Of History and Hope."  This poem is centered around reflecting on the past as well as looking forward towards the future. Children are frequently referenced, perhaps due to their innocent, compassionate, and hopeful nature.
Barack Obama continued this no-so widely-used tradition at both of his inaugurations, which occurred in 2009 and 2013.
At Obama's first inauguration, Elizabeth Alexander recited her poem "Praise Song for the Day." The poem largely focuses on the concept of noise and evokes imagery, mainly the senses of hearing and sight. It has an overarching theme of love and remembering the struggles people went through in the past for a better future for others.
At his second inauguration, Richard Blanco read his poem "One Today," which focuses on the concept that everyone is connected and united by one light, one ground, and one sky. It relies heavily on imagery to paint a picture of experiences that many can relate to. Many different places are referenced, such as the Great Plains, the Great Lakes, and the Rockies to reinforce that idea of unity, of one America.
Finally, on January 20, at current President Joe Biden's inauguration, Amanda Gorman read her poem "The Hill We Climb."
Gorman is a 23 year-old poet and activist. Her work centers around oppression, race, and feminism. She was the first person to be named National Youth Poet Laureate back in 2017, which is granted to young people who demonstrate skill in poetry.
One line in particular at the end of the poem sums it up perfectly: "We will rebuild, reconcile and recover in every known nook of our nation, in every corner called our country our people diverse and beautiful will emerge battered and beautiful."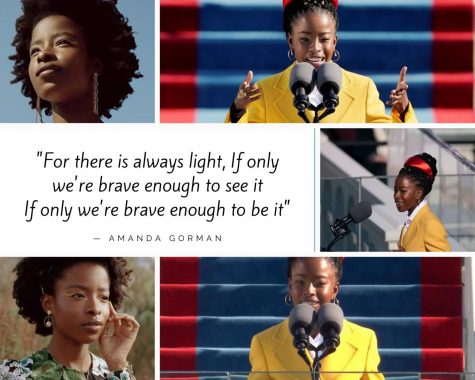 This poem describes how Americans must put their differences aside to seek harmony, how Americans must prevail through catastrophes that have occurred. It does not shy away from the mistakes that have been made along the way, but it yields an insistent tone that this bruised country can be healed.
ERHS student Kenneth Victoriano noted how it "acknowledged the darkness that we face in America" but also "inspired us to be better and be the light."
A line that sticks out is "So, let us leave behind a country better than one we were left."
It reflects the overall purpose of the poem: To encourage reconciliation and kindness and collaboration to mend what has been broken.
The poem ends on an uplifting, hopeful note as Gorman claims that "For there is always light. If only we're brave enough to see it."
This message in particular is incredibly important because it reminds Americans that though there have been many hardships faced recently, there has been good as well. You just have to search for it.
Overall, this poem is incredibly beautiful, well-written, and much needed.  Victoriano describes it as "an incredible poem made by an incredible woman" and "one of the best moments of the inauguration."
It was so impactful that it caused Gorman to gain lots of attention. Deragisch noted that "One of the most evident examples of the impact of her poem on the audience was how quickly everything exploded across social media."
After the inauguration, Gorman's follower count on Instagram dramatically increased from the hundred thousands to the millions.
It is clear that many people, Americans and non-Americans were moved by her poem. Deragisch hopes that "she inspires more students to not be afraid to share their voice through poetry."
If you would like to read the entire poem, click here.
Even though poetry is not a traditional part of presidential inaugurations, it is a wonderful addition when used. Poetry is a powerful tool of literature that has a special way of going straight to reader's and listener's hearts.
Hopefully in the future, poetry will become a more customary addition to inaugurations. Especially in divided times like right now, it can be a beam of light that helps unify Americans.