Five Tips for the New Semester
Regardless of grade level, online classes definitely present a learning curve, both to students and teachers. Thankfully, our school counselors are here to help!
Students are encouraged to check out our schools new Remote and Virtual Learning website. According to the email I received from Tracy Kelly, the school counselor for students with last names Jh-McGwire, "you will be able to find many resources [on the website] for you (tips, tricks, tutoring info, sample schedules and more!!)." Here is the link for the website: Click Here!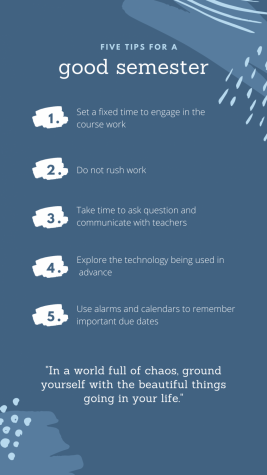 Also included in the email was 5 easy tips for students to help them succeed. I have tried to paraphrase them for you! They are as follows:
Set a fixed time to engage in the course work- It is super easy to forget about work or find the motivation to do work when you aren't in a classroom. Scheduling time will hopefully make it easier for a student to complete all their work and stay organized.
Do not rush work- Online classes may feel easier but you are still learning everything you would in a brick and mortar classroom. Spend the same amount of time and energy as you would for any other class. Also keep in mind deadlines for completing work and budget time accordingly.
Take time to ask question and communicate with teachers- It is nerve racking to unmute yourself in a zoom call or send a teacher an email, but teachers are here to help you. Ask questions! It is the easiest way to clear up miscommunication and confusion. I have already sent a few emails about course material! Here is a link to access sample emails: Click Here!
Explore the technology being used in advance- I hate learning about new apps (it took me ages to figure out Flipgrid) but oftentimes they are great tools for learning. When you need to use technology that you have never used before, take some time beforehand and mess around. Here is a link to access the tech support page: Click Here!
Use alarms and calendars to remember important due dates- organization is the true key to online learning. Note due dates in your calendar, test dates, and more. This was not in the email but I personally also have alarms that go off 5 minutes before each of my classes, like a bell schedule. Here is a link to sample schedules to help you stay organized: Remote Students Here! / Virtual Students Here!
Hazel Lloyd, ERHS senior, expresses the importance of tip one and five. She says above all, "manage your time." She explains how "laying out all your due dates is really helpful" and continues by saying, "having designated times to do homework helps separate school from the rest of your day."
Winter break knocks a lot of people off their stride so use these resources to get yourself back in the game.