ComplexLand 2020
ComplexLand is a pop culture event that happens every year to celebrate music culture, artist, food, and brands. Typically it's a public event that many travel to Long Beach to participate in called  Complex Con; its usual name, although the Coronavirus has put a halt on that gathering. Now all that enjoy that culture can participate in the alternative online convention, taking place from Dec. 7 to Dec 11.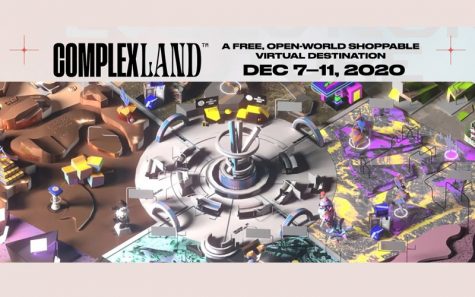 Those who join in will be able to create an avatar of their liking, this is their way of getting around the convention.
Players have a couple of areas to explore, each having different activities to simulate that of the actual convention.
There's the Boro:  a place to look at sculptures, plushies, prints, etc.
Hi-Bye is a galleria where players can appreciate Complex's brands to watch and brands made by the style team.
The Astral market presents shows and performances throughout the week, along with Sunset Lagoon;  a place where the non-playable characters can give info on the music you're listing to.
Last is the Campgrounds, where players can chill and look out for drops; Easter eggs are available though nimble finger clicking and a keen eye.
All of these sections are home to the many shops one can go to; players will see stocks in these stores change daily as the event goes on. Brands include adidas, Alumni, carrots, Farfetch, Feature, Project Woo Physchworld, real buy, Rhude, Rokit, Super plastic, and many more. Players will also be able to find pieces like Yaito's signature knot bag and the North Face Nuptse jacket.
To go along with the store aspect, food is available as well. Players can order straight from their avatar to their door from a variety of locations, including Uncle Paulie's Deli, Artichoke pizza, Taranga, and sweet chick.
With the virus murking up the holidays, Complex aims to create an inviting online experience for all to enjoy, and since admission is free; everyone is welcome