ERHS Golden Bell Award for the All-Stars Foster Youth Program
ERHS has been awarded the California School Boards Association Golden Bell Award for the 2020 year for the All-Stars Foster Youth Program. News of this was released back in October, but it was made official this December.
The CSBA Golden Bell Awards recognize particularly outstanding programs within school districts and county offices of education in California. This is the 41st year of its occurrence.
According to the awards program, they seek out and recognize practices that "support, sustain, and inspire the creation and continuance of exemplary education programs" as well as educators who "invest extra energy and time to make a demonstrated difference for students."
The purpose of the awards is to share effective educational strategies, increase confidence in public education, as well as express appreciation for deserving educators.
It is a major honor to be bestowed with this award, as it highlights all of the amazing work the All-Stars Foster Youth Program has done.
This year, 26 members occupied the judging panel who reviewed the 116 entries spanning across 19 different categories. The judging panel was made up of experts from either school districts or country offices of education.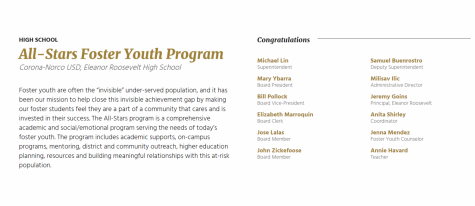 The All-Stars program won their award under the "Equity and Access" category. This category focuses on programs that have encouraged a more equal distribution of resources by breaking down barriers that prevent equitable education.
To get more information on the program, I spoke with Jenna Mendez, foster youth counselor, and Annie Havard, teacher and program leader.
The program was first started around 15 years ago, but it was only on a small level in the district. It came to ERHS during the second year of its operation, 2007, and was started by a school counselor and former social worker. According to Mendez, he would "get all of [the] foster youth together, bring snacks, and allow them to connect with each other."
Now, the program is district-wide, with the largest branch belonging to ERHS. Havard describes that this program has worked to "create a sense of 'home' here on campus."
There are two major components of the program: The class and the mentoring program.
The class was suggested by Havard when she became part of the program 5 years ago. It was "targeted at [providing] social-emotional support as well as academic support" to foster youth. It is not required for the foster students to take it, but many of them choose to.
The mentoring program has two parts. In the first, each foster student is given their own adult mentor, such as a teacher, administrator, security guard, clerk, or counselor. This allows them to form a strong bond. Havard mentions that one mentor even "helped their mentee move in and decorate their freshman dorm at college."
The second part of the program entails the foster students mentoring the foster kids at Eastvale Elementary. They are able to do activities such as play games, read stories, and make crafts. This is mutually beneficial, as the ERHS students are able to gain leadership skills and the elementary students are able to look up to a role model who will listen to them.
Other fun activities that they do include monthly events/gatherings with guest speakers, prizes, and games, a weekend camp in Big Bear, Unity forums, a foster youth field day, field trips to colleges, and fun trips to educational places.
All-Stars has a partnership with Norco College where the students are assisted with filling out FAFSA and applying for scholarships/grants.
The program's official goal statement is " Helping to close the achievement gap in academics, attendance and behavior, increasing student engagement by establishing a support network in the community, increase transition to college and career, and provide life skills, experiences and resources."
A major part of this is create a sense of connection and belonging for the foster students. Havard acknowledges that they often feel like "the 'invisible population' on school campuses." They have to face many additional challenges that no one knows about amongst those that typical teens face. Therefore, the All-Stars program is meant to give them a "homebase, a place to feel welcome and accepted."
As stated by Mendez, the program also helps the students "feel connected to ERHS"  and "know they are not the only ones going through this situation."
COVID has made some of their normal activities difficult, especially because "part of what is so amazing about the All Stars program is the connections", says Mendez. However, they still have been able to meet up virtually. Havard meets with the students individually to discuss their goals and the mentors meet up with their mentees over Zoom.
They are excited to return to campus once it is safe.
Havard amounts the success of the program to the "people who pour their hearts into this program." They do all of this work in order to "make a difference in the lives of [their] students" because they deserve "nothing but the best."
This mindset proves how much this amazing program and the hardworking members of it, including Havard, Mendez, and many others, deserve this award. They have done so much for their students, who truly deserve it, and do it out of the good in the hearts.
If you would like to review the official recording of all of the recipients of the Golden Bell Award this year, you can visit it here.