U Can Stop: Youth Conference
U Can Stop: United Corona and Norco Stamp Tobacco Out Program is a district program that "aims to prevent and reduce tobacco use among our students in grades 6 through 12 by providing tobacco-specific student instruction, reinforcement activities, special events, intervention, and cessation programs for students" as stated on their district page.
On December 8th, U Can Stop is hosting a virtual youth conference. Robin Jones, accounting grants and projects technician, told me it is "two hour youth conference for 6th – 12th grade students focusing on tobacco prevention." Here is the link to register: Register Here!
There will be a few speakers including the Youth Advisory Council (YAC), Dee Hawkins, and Music Notes.
Jones explained how "YAC is students through out the district who are going to give a youth tobacco prevention training." She also said that we should come to listen to Dee Hawkins. Jones believes that he is an "inspiration with quite the story to tell."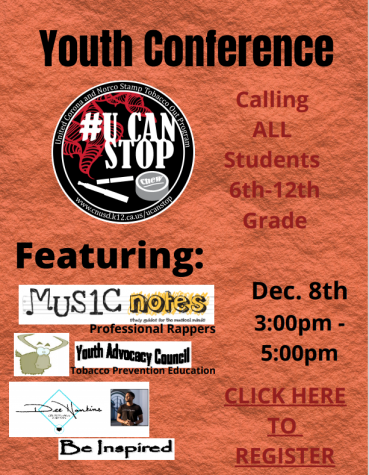 I was able to talk with Music Notes cofounder, Lemar Queen. The Music Notes section of the conference will be a "prerecorded program that covers a lot of information regarding vaping and the marketing tricks used by tobacco companies." If you want to talk to Queen, don't worry! Music Notes will have a "fifteen minute Q&A". Queen expressed how much he hopes "kids will leave knowing more."
I have been to a few U Can Stop events and have worked with them closely because of school club, and I have never been disappointed. The U Can Stop staff work very hard to ensure that content is educational and engaging. It is also incredibly beneficial to know information regarding tobacco use because it helps us from falling into traps set by tobacco companies.
If you have time on December 8th, spend it gaining knowledge that will help you.
Here is the link to register for the conference: Register Here!
About the Writer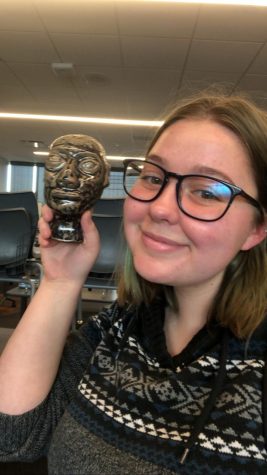 Brianne Leber, Editor and Journalist
Brianne Leber is a senior at Eleanor Roosevelt High School. She was drawn to journalism because of its ability to show different perspective to a large...