Taylor Swift Saves 2020 Once Again
"Folklore: The Long Pond Studio Sessions" released on Disney+
Taylor Swift has given fans so much already this year, from the Miss Americana Netflix documentary, to the City of Lover Concert on Disney+, and lastly the Folklore album. She decided to not stop there, though, and released a live rendition of her folklore album, complete with commentary, on Disney+ on November 25th.
It is titled "The Long Pond Studio Sessions", named after where they were recorded: Long Pond Studio in New York. It features 17 songs, including "the lakes" from the deluxe version of the album.
Aaron Dessner, owner of the studio, and Jack Antonoff join Swift in playing multiple instruments including piano and guitar. Both of them are producers who had worked with Taylor on the folklore album.
One detail that immediately stuck out to me was the casual vibe of the recordings. Dessner, Antonoff, and Swift were all dressed in casual attire. The set-up was simple: Just them and their instruments.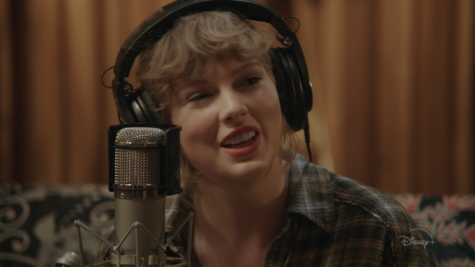 This created an intimate ambience that allowed fans to feel closer to Taylor, which is really valuable, especially at a time like this when finding human connection is proving to be difficult due to COVID. Swift has always been exceptional at keeping a close relationship with her fans, from sending them Christmas presents, to inviting them to her home for Secret Sessions where she plays her new music early for them, and going above and beyond at Meet N Greets.
ERHS student Harshi Kellampalli noted that "This little film created a larger connection with Taylor's music and allowed [her] to have a greater respect for all creators."
It certainly can't have been easy the last few months for creators, yet Taylor has been able to give her fans so much. This is definitely an example of her caring nature and utter dedication and appreciation for her fans.
Now, back to the film! Of course, Taylor's vocals did not disappoint. Her unedited, raw voice is just as impressive as her studio voice, almost even more impressive. Her voice wasn't the only beautiful part, as Kellampalli notes the film "was heartwarming and just beautiful in terms of the scenery, the story, and her voice."
The songs "the 1" and "cardigan" didn't particularly grab my attention, most likely because I had already formed such a high opinion of those songs after listening to the album so many times.
The first song that particularly stood out to me was "my tears ricochet". This rendition dramatically improved my opinion of the song. It's not that I didn't like this song before hearing the pond studio session version, it just wasn't my favorite.
Before getting into the song, Taylor briefly described the song. She detailed how the song reflects the pain that comes with having someone who you truly loved and who knew you wholeheartedly become your worst enemy. I think that this meaning almost gets a little lost in the funeral metaphor, which is admittedly beautiful, as listeners struggle to connect to it. This explanation opens up the song's interpretation and allows fans to fully absorb it. One of the many beauties of Swift's music is the complexity of the layers in her songwriting. Oftentimes to understand it, you have to look deeper than the surface, as in this case.
Taylor also revealed the information that "my tears ricochet" was the first song she wrote on the folklore album. She also describes it as "one of the saddest" songs on the album, which I would have to agree with.
One of my personal favorites on the album, "mirrorball", was another song that stood out to me. Swift noted that she wrote this song after Loverfest, her tour for the 2019 album "Lover", got cancelled due to the pandemic. She delved deeper into the song's meaning of how a disco ball is a metaphor for people who are breaking yet serve as entertainment. This can specifically be seen with celebrities- and that was Swift's intent- but she does recognize that people who feel like they have to be different versions of themselves to please others can also relate.
I think that especially for teenagers, this is an easily relatable feeling. Of course, it is natural to act differently around different people. For example, you wouldn't use the same amount of formality you use around your teachers around your friends. However, it can become a problem when you feel like you have to alter your personality to get other people to like you, possibly losing your true identity in the process.
Once again, Swift is able to perfectly capture this feeling and recognize the wide variety of connections people of different ages may make to her songs. She never leaves you out in the cold, and being of fan of hers feels like being her friend. Even just listening to her music, especially live/acoustic versions, makes you feel so connected to her and so understood.
Swift's rendition and explanation of "this is me trying" was overtly welcoming and understanding. She revealed that she wrote this song from the perspective of someone struggling with addiction or mental illness, acknowledging the aspect that "every day, they are actively fighting something" yet "no one pats them on the back." This clears up the message of the song, the statement that Taylor is giving to her fans going through a difficult time: I know you are struggling, I see you, and I am proud of you for trying anyway.
This is an extremely powerful message, and one that struggling fans need to hear, especially if no one else in their life is conveying it to them. Music is a tool oftentimes used as a coping mechanism for people in a dark place, and Swift clearly demonstrates an understanding of this. Feeling alone in the world is quite easy, but music can bring you to a place where you realize you aren't alone in your struggles or hardships. For every person who has ever brought you down or invalidated your feelings, there is someone who sees what you are going through and wants to let you know that it is ok. Oftentimes, this person is a musician conveying it through a song, and Taylor is certainly no stranger or newcomer to this.
One last memo regarding "epiphany" made an impact on me. Swift confirmed that this song is about her grandfather who fought in World War II but "never talked about it." She saw how "nobody got to hear about what happened there" and wanted to convey the feeling of being so affected by something yet simultaneously unable to speak about it, even to your closest family and friends. Though war maybe isn't the most relatable thing for Swift's fans, that feeling is certainly universal.
Taylor brought up a second reasoning behind this song: COVID-19. This song is also about healthcare workers who are "having this trauma happen to them right now that they will probably never want to speak about." Though many people may think of teenage girls when thinking of Swift's fanbase, she actually has quite a large number of adult fans. This recognition of the hardships medical professionals are undergoing must certainly mean a lot to them.
On a lighter note, Swift revealed the identity of the mysterious William Bowery, a writer credited on the folklore album. Though there had been speculation, she officially confirmed it is her boyfriend, Joe Alwyn. Alwyn is a British actor and has been with Swift since 2016. He assisted with writing both "exile", which is nominated for a Grammy, and "betty".
The two have keep their relationship relatively private, a stark difference from the past very public relationships of Swift's, largely due to the media.
Overall, this documentary was beautifully put together and was definitely worth the 1 hour and 46 minutes. I greatly enjoyed it and believe that Swift's elaborations on each of the songs really added a lot to them.
Fellow Swift fan, Erika Pacheco, said that she "saw the tracks in a completely new light after watching the long pond sessions."
Continuing, she added that hearing Taylor "go into depth with this album helped [her] gain a better understanding and love it even more."
So, if you are up for a good cry, as Swift herself puts it, you should go and watch Folklore: The Long Pond Studio Sessions on Disney+, only after you've listened to the album though, of course.