CNUSD Board Meeting Regarding Reopening
Over the past four months, there has been one question students of all ages have been asking: "When will we be able to go back to school?"
Unfortunately for high school and middle school students, the answer is less clear-cut. However, for TK-6th grade students, the waiver just got accepted for them to be able to return to school. This makes CNUSD the first large-scale district in California to be able to actually reopen.
On Tuesday November 10, the CNUSD Board livestreamed their board meeting to discuss details of this reopening.
The first topic for discussion was when the return to school would occur for the elementary school students, as asked by board member John Zickefoose, because an official date had not been adopted.
The vice president of the board, Bill Pollock, answered "The return date is January the fourth, a Monday." This would apply to the year-round track elementary schools.
President of the board Mary Ybarra clarified that this would include "tracks A, B, and C," giving them "four solid weeks of those three tracks together before A track goes off in February."
Another board member elaborated that "traditional doesn't come back until the 11th."
Questions were arisen as to whether or not the waiver granted to these schools would still be applicable at this time, and vice president Bill Pollock said that "the waiver would still be okay and approved."
The only way in-person instruction could be disrupted, as discussed by multiple board members, would be if the COVID situation got so bad that the state implemented specific restrictions that banned it.
Board member Dr. Jose Lalas said that because the waiver has been granted, "when you're ready, you open up."
The approval of the waiver and the motion to return year-round students on January 4 and traditional students on January 11 was voted on, and member Elizabeth Marroquin voted no. She elaborated that once the MOU was done, she believed the "teacher's union would want to go back and negotiate."
Therefore, the return date "may go back further than January fourth," Marroquin continued.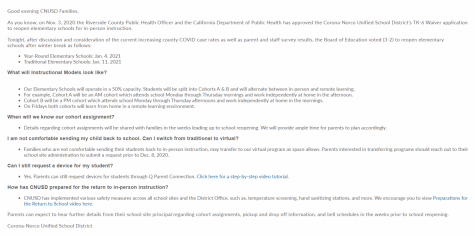 However, the vote was 3-2, so this plan was approved. There will be two cohorts, one going in the AM and one going in the PM, both of them attending school Monday through Thursday.
These students will then independently study whenever they aren't in school, whether that be in the afternoons or the mornings. No students will attend school physically on Friday.
Of course, this raises concerns for parents worried about their child's safety in returning back to school. Therefore, as space allows, students can transfer to the virtual program. Parents need to submit a request for this before December 8.
Safety measures such as temperature screenings and hand sanitizing stations are being implemented to ensure the safety of both students and staff.
Though this only applies to elementary schools, this is a step in the right direction for middle and high schools in CNUSD to reopen. If this can happen successfully, then it is more likely that a plan for the older students can be implemented as well.
It may not directly affect you as a student, but if you have younger siblings, this will be a great mood booster for them.
So, stay positive! The board members are working their hardest to ensure that safe protocols are in place while also trying to get students back as soon as possible.
If you would like to review the recording of the board meeting yourself with more detail and also discussion of other CNUSD-related affairs, you can access it here.