Ariana Grande switches her "Position" within the music industry with her R&B influenced album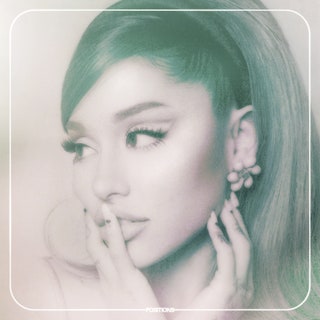 Pop princess Ariana Grande has strayed away from her typical bubblegum pop sound with her newest Album "Positions", which was just released on October 30th. This is her sixth album and the third to be released since 2018, an impressive feat and a sign of her growth over time as well as her dedication to fans.
Though the album is categorized under the pop genre, it is very heavily influenced by R&B. Her first album "Yours Truly" also has R&B traces, so it was nice to see her go back to her roots a little.
ERHS student and Ariana fan Erika Pacheco describes Positions as a "lovely lustful album with bright sounds."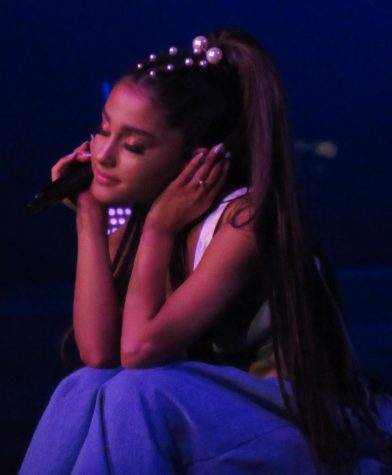 The album has 13 songs, and only one of them was released before the album dropped: the title track. The song "Positions" also was accompanied by a music video. The tracklist is as follows: "shut up", "34 + 35", "motive" (feat. Doja Cat), "just like magic", "off the table" (feat. The Weeknd), "six thirty", "safety net" (feat. Ty Dolla $ign), "my hair", "nasty", "west side", "love language", "positions", "obvious", and "pov".
Let's start off with the collaborations. To be honest, I had higher hopes for the Doja Cat collaboration. I love both Ariana's and Doja's music, so I assumed their song together would be mind-blowing. However, I was a bit disappointed. On my first listen, "motive" was one of my least favorites on the album. It just seemed a bit boring, almost like there was something missing from it. If Doja had another verse, it would've ranked much higher for me. After a few more listens, the song grew on me and I now like it.
The song with The Weeknd was definitely the best collaboration on the album. Their voices perfectly mended together in a soft, hopeful R&B pop song. "Off the table" is one of my overall favorite songs from this work. The song details being scared of loving again, but being eager to, after facing hardships in life and multiple failed relationships. It is beautiful and illuminates so much of Ariana's pain and strength in a more positive way than was reflected in the "thank u, next" era where the wounds were still fresh.
Hiba Khan elaborates on this idea as she believes Positions was "an incredible way of transitioning from her thank u, next era" as it really "helped her establish her own sound."
The Ty Dolla $ign collab didn't really stand out to me. I really liked the song "safety net" on its own, but the collab portion did not really add to it in any way. It seems like a perfect sequel to "off the table". It also expresses the feelings of being scared to enter a relationship and let your guard down, but recognizing that you're falling for the person whether or not you want to.
By far, the best song on the album, both lyrically and production-wise, is "pov". It perfectly conveys the feelings that come with being in love and not understanding how the person could feel the same way about you as you do about them.
Ariana sings "I wanna love me the way that you love me" and "I wanna trust me the way that you trust me", highlighting her doubts about herself whilst she realizes just how cared for she is by her lover. My favorite lyric throughout the song is "I'ma love you even though I'm scared." It continues the common theme throughout this album of having had bad experiences with love in the past and being reluctant to open up again, but ultimately not caring because you trust your partner and are willing to risk it all for them. It truly is a beautiful song.
This song is most likely about Grande's current boyfriend, Dalton Gomez, who is a real estate agent.
It also puts emphasis on learning to be confident in yourself, featuring lyrics such as "Learnin' to be grateful for myself" and "Learnin' to believe in what is mine." It is the perfect combination of self-growth and finally finding love that won't hurt you, and is there really more a person could ask for?
A personal favorite of mine is "just like magic". It focuses on self-love and manifesting the law of attraction by recognizing your worth and knowing that you are the only one who can really take control of your life.
"Nasty" and "my hair" stood out to me both due to their amazing production as well as Grande's perfect whistle notes embedded within them. The lyrics in "my hair" definitely stood out more, though, why is why it is ranked significantly higher.
"Love language" is an extremely unique track. It has a very retro feel to it, and Ariana's enunciation is enchanting and beautiful. The sound effects remind me of a Mario Kart song, but not in a bad way! The last 20 or so seconds completely change tempo and confirm the song as one of the strongest on the album.
Overall, I greatly enjoyed the album. Ariana never disappoints, as usual. It is too early to say whether or not it is my favorite album of hers yet, but if definitely makes top 3 alongside "Yours Truly" and "thank u, next".
Now for the track ranking:
POV
my hair
off the table
love language
just like magic
magic
safety net
obvious
west side
positions
motive
34 + 35
shut up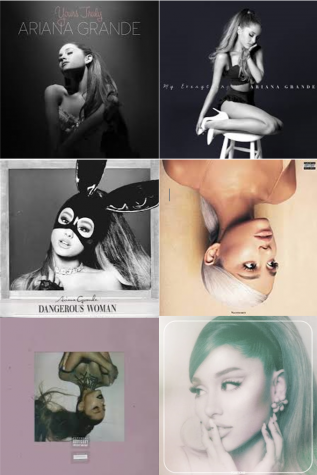 Even if you have never particularly liked Grande's music, I really recommend you listen to this album, especially if you are a fan of R&B. This album is unlike anything ever released by Ariana before and really encompasses how much she's gone through and how hard she has had to fight to make it through, happy and in love, on to the other side.
Though it may not be her most strong album lyrically, the "production and vocals in the album are amazing" says Pacheco, which is why she likes the track "shut up".
Ariana's maturity shines through, and as Khan puts it, it portrays how "she's grown to become a new, confident individual after addressing and acknowledging those emotions [from the thank u, next era]."
It serves as a good example that no matter how bad things get, no matter how much trauma you undergo, there will be better days when you finally realize that sticking around was worth it. You will get your happy ending, whether it is with someone or simply just finally accepting yourself.