The New iPhone 12
It seems like Apple is constantly releasing new products, what with there being a new iPhone popping up almost every year. That time has come again with the release of the iPhone 12.
It will be available on October 23rd on Apple for $799 whilst the smaller version, the iPhone 12 mini, is going for $699 and will be available November 6th.  They come in 5 colors: white, black, blue, green, and red. These are certainly unique colors, as was the lavender color offered for the iPhone 11. It appears that Apple is straying from the norms in this aspect and trying to attract consumers with unique attributes.
Now for the specs. I'm no tech expert, but here's what I know. It has 5G speed, making it the first Apple product to have it. This is likely one of the most highly anticipated features of the new product.
If you're confused about what 5g is exactly, you're not the only one. In the simplest terms possible, it is just a new, faster version of the 4g we all know. It is expected to be almost 100 times faster than 4g, as it is built on super-high frequency airwaves called high-band spectrum. The higher frequency allows for a much faster transmission of more data.
It has an A14 Bionic chip, which Apple describes as "the fastest chip in a smartphone". So far, it sounds like this phone is supposed to be pretty fast. If it isn't… well, that will create some mad customers, I suppose.
The iPhone 12 features an edge-to-edge OLED screen, which doesn't require a backlight and therefore contributes to the thinner appearance of the device. My brother Luke Blake, an Apple user, said that he "likes how they went back to the older iPhone design and were able to make it thinner."
Every camera has night mode, allowing for better pictures to be taken in the dark. No more trashy flash!
It has a ceramic shield that makes it "tougher than any smartphone glass", according to Apple. It is also said to be even more splash and water resistant than the iPhone 11.
There are magnets embedded in both the charger and the iPhone that allow for faster, more powerful wireless charging. Luke mentioned that "the ability to charge my phone faster without a cord is an amazing feature that will draw in more customers."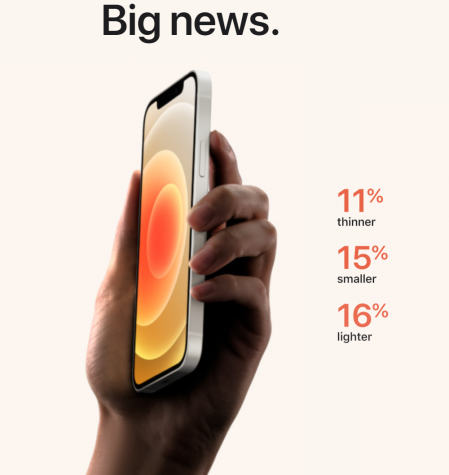 Now moving on into how it stacks up compared to some of Apple's older phones. Apple claims the following: It has 4 times better drop performance and is 11% thinner, 15% smaller, and 16% lighter.
The iPhone 12 has a 6.1″ Super Retina XDR display while the iPhone 12 mini has a 5.4″ Super Retina XDR display.
Got all that? It's a bit much to take in, and might not mean a whole lot to you if you don't frequently look into the specs of technology products. However, anyone can see that it is clearly an improvement from Apple's last phone.
In order to get another perspective, I asked my dad, Jason Blake, for his opinion on the phone, as he is an Android user.
He said "As an Android user, I like the design features and the new glass that is much more durable". The combination of all the new features and the lower price makes him "consider switching back to Apple".
Continuing, he also stated that "One thing I am not sure about is why it is smaller". He said he was a fan of "larger phones".
It seems that over the years, excitement for new releases of iPhones has decreased, but there is still a fair amount of talk about this new product. Only time can tell the success of its sales and whether or not it's worth the money.
Personally, I don't think it is enough of an upgrade to spend the money on it unless you really want to or are in need of a new phone. it certainly does seem pretty impressive, though.
If you are interested, more information on the iPhone 12 and details on how to purchase or pre-order it can be found at apple.com.