In Less Than A Week Trump Has "Kicked" The Virus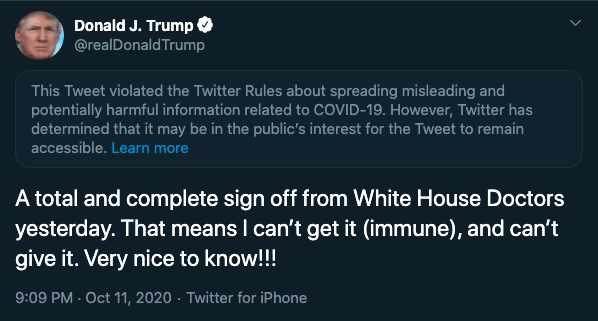 President Donald Trump would have the public believe that he's tested negative for the Coronavirus after his initial positive test last Sunday, although his doctor hasn't confirmed or denied this statement.
Trump flew to Walter Reed National Medical Center in Bethesda, Maryland, on Marine One on Friday evening after experiencing fever and fatigue. Officials said they expected him to be there for a few days.
The diagnosis raises many questions about how long the president has been infected, who else may have been exposed, how the diagnosis will influence the election, and what happens next.
His doctor issued a statement saying "He is no longer considered a transmission risk to others," although he didn't say that Trump tested negative.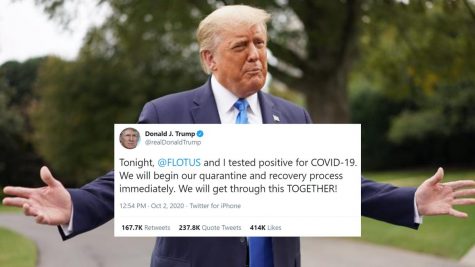 While the duration of infectiousness for COVID-19 has yet to be confirmed, scientists believe that people with mild to moderate COVID-19 may shed the virus for up to 10 days after symptoms first appear, according to the CDC.
It's still unclear what day the president first began experiencing symptoms as mixed messaging from the White House continues to muddle the timeline. Trump first announced his diagnosis on Twitter early Friday morning but made no mention of symptoms.
It wasn't until later that morning when White House chief of staff Mark Meadows told reporters the president was experiencing "mild symptoms." On Saturday, White House physician Sean Conley disclosed on the record for the first time that the president had a fever.
According to CDC guidelines, a person who has come in close contact with an individual who has confirmed or suspected COVID-19 should quarantine for 14 days regardless of a positive or negative test result.
Vice President Mike Pence is suspected to have been in close contact with the president while he was infectious. The vice president tested negative for COVID-19 three times since Trump's diagnosis and has made multiple public appearances while the President recovers in the hospital.
Needless to say, neither the president nor the vice president is following CDC guidelines. Trump states that he tested negative but neither the White House nor his doctors have confirmed this story. Although he wants the public to believe that he is now immune.
About the Contributor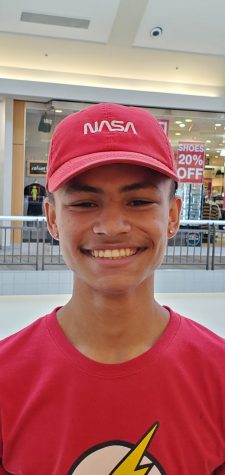 Drew Hardister, Journalist
Drew is a fun loving guy; he likes to read, skate, hike, ride bikes and so much more. Something that brought him to journalism is the thought of getting...