A Closer Look at Taylor Swift's Folklore Album
Over the past decade, Taylor Swift has quickly become a household name. It is impossible to escape her huge impact on the music industry, as almost everyone has heard at least one of her many hits on the radio. Regardless of your opinion on her herself and on her music, people are generally familiar with her and have formed their own strong viewpoint on Taylor.
With 32 Grammy nominees and 10 wins, Taylor is no stranger to award shows. In fact, just last month she was the first solo female artist to win best director for her music video "The Man" at the VMA's.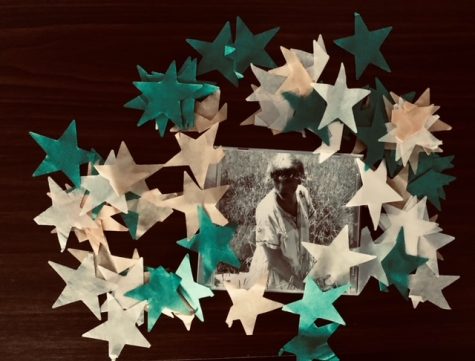 Swift dropped her eighth album, "Folklore", just over two months ago on July 24. This was less than a year after the release of her seventh album, "Lover", on August 23, 2019. Folklore was a surprise for Taylor fans, who call themselves "Swifties", as she announced it just one day before it was released.
Folklore is definitely a shift from Taylor's older music. ERHS student Sanskriti Balaji noted how it was not only a different genre, indie folk, but also "more laid back and relaxed than her more upbeat songs". She commented that some of Swift's other albums had songs that are "a lot more memorable", but overall thought Folklore was "really really good".
The album came about due to the mandated isolation to stop the spread of COVID-19. Unlike her previous seven albums, the songs don't exactly detail her experiences with love, life, and friendship. Instead, they tell stories, or folklores, which can be defined as the stories, beliefs, or customs of a community passed down generations by mouth. Though, it is likely that they were partially influenced by Swift's own experiences.
Fellow ERHS student Erika Pacheco described how the album is "the illumination of perspective" that highlights both "whimsical love stories and painful heartbreaks" in "many beautiful layers".
There are 16 songs on the album, 17 including the deluxe song "The Lakes". The songs "Cardigan", "Betty", and "August" detail a teenage love triangle that focuses on three characters.
The album starts off with the song "The 1", which focuses on the feeling of looking back on a past relationship and reminiscing on how it "would've been fun" if the two people had ended up together. It has an upbeat tone, which differs from the typical breakup song. Rather than expressing sadness for no longer being with the person, the narrator instead recognizes that "the greatest loves of all time are over now", and even wishes them well with their future relationships. This uniqueness enhances the song's simple yet effective lyrics.
Next up is the only song to be accompanied by a music video, as of right now. "Cardigan" is arguably one of the strongest songs on the album, likely a key factor in Swift's decision to make it a single. It starts right off the bat with vivid imagery that can easily be pictured: "vintage tee", "high heels on cobblestone", "sequin smile", and "black lipstick". These ideas seem to create a dark picture, but the soft piano in the background fades into a softer chorus. The song portrays the viewpoint of the character Betty on her relationship with James, another character in the love triangle previously mentioned.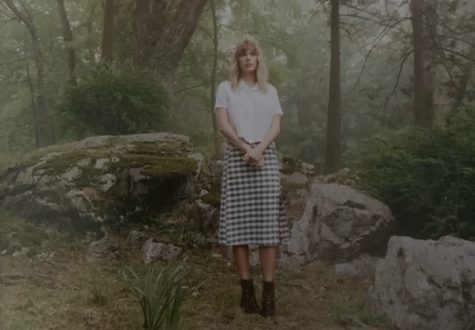 "The Last Great American Dynasty" is one of the most unique songs on the album. It follows a story pertaining to a woman named "Rebekah". Swift is referring to a real person, Rebekah West Harkness, who previously owned Taylor's Rhode Island mansion. The tale is one of mischief, where Rebekah dyed her neighbor's dog "key-lime green" and "filled the pool with champagne". Though the entire town finds her to be reckless, mad, and crazy, Rebekah remains shameless and does not care. Taylor inserts herself into the story later on in the song saying "I had a marvelous time ruining everything", showing that she's letting go of her need to be portrayed as a good girl despite the media's desire to do the opposite. Overall, this song is upbeat and fun, certainly one that deserves radio play.
The mood of the album quickly changes to one of heartbreak and darkness with the only feature of the album, the song, "Exile" with Bon Iver. Swift can write a heart wrenching song just as easily as she can write a record-breaking pop song. Exile portrays the feeling of being locked out of your significant other's life after a falling out. It features an extended metaphor that compares this feeling to being in exile from the place, or person, you used to love. It starts off with Bon Iver's rough voice, which later collides with the soft high notes from Taylor. The song builds up to a point where the two are talking, rather arguing, back and forth. This perfectly juxtaposes their voices and makes the track stand out. It is definitely one of my favorites.
"My Tears Ricochet" is undoubtedly one of the darkest songs on the album.  Eerie lyrics such as "If I'm dead to you why are you at the wake" and "I didn't have it in myself to go with grace" set the dreary mood. The song illustrates the idea of an estranged friend, lover, or acquaintance showing up at the narrator's funeral after ultimately destroying their life and livelihood. The piercing high notes in the intro contrast the pain conveyed through the lyrics. Though outshone by some of the other songs, the lyrics and vocals do stand out, making this a memorable song.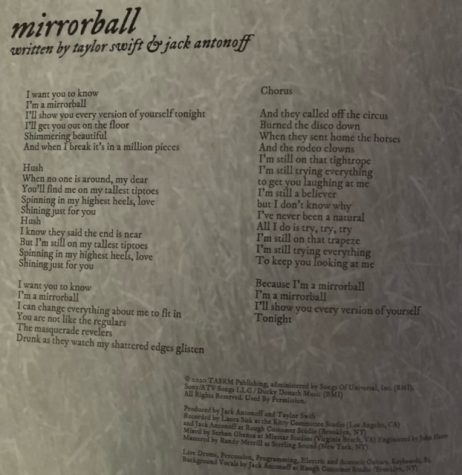 Track 6 is one of my personal favorites. "Mirrorball" uses a mirrorball, also known as a disco ball, as a metaphor for reflecting other's personalities and actions back on them to try to get them to like you. It is about changing yourself so much based on who you are with that you lose yourself in it. Though the instrumentals make it almost sound like a Christmas song or a song you'd hear playing at prom or a mall in the early 2000s, it can easily be one of the most meaningful songs on the album. Desperation to fit in is conveyed within the lyrics, as Swift pleads "I'm still on that tightrope, I'm still trying everything to get you laughing at me".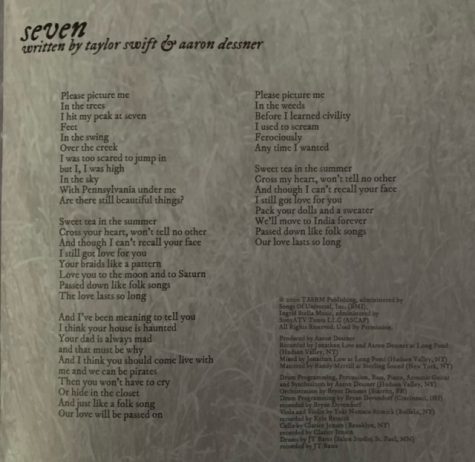 Taylor named the seventh track on the album "Seven", which is just another example of her genius songwriting abilities. Though the rest of the album focuses on the feelings of teenagers and adults, this track explores the innocence and love of childhood. The sweet melody and gentle lyrics illustrate a picture of two young kids having fun and dreaming of moving away to where nothing could hurt them, kids who never imagined they'd have to leave each other behind. "Cross your heart, won't tell no other" is juxtaposed against "Though I can't recall your face I still got love for you", showing how the innocent beliefs of childhood can stretch beyond reality. The feelings and magic don't exactly have to fade, though. This is definitely an underrated song. At first, it didn't quite catch my eye but after listening to it more and digesting the lyrics, it became another one of my favorites. Pacheco commented on how for her, Seven is the "most immersive" due to the "intricate imagery" and "nostalgic slowness" that combines the "melancholy and the joy of our past".
The next song, "August", is one of the most popular songs on the album, and rightfully so. This is the second song in the love triangle trio. It follows the point of view of the girl James was with after his falling out with Betty. She remains unnamed, possibly to indicate how she was much less important to him than Betty was. The build-up of the guitar throughout the song remains steady while the narrator describes how she lost James, who meant a lot more to her than she did to him. Similes such as "August slipped away like a bottle of wine" convey the loneliness and regret of losing someone who spent the whole time they were with you wanting someone else.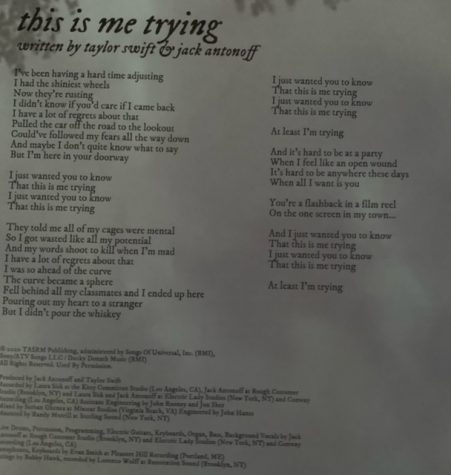 "This is Me Trying" is certainly one of the most relatable songs on Folklore. It details the struggles of trying to hold yourself together and do the best you can when things become difficult. Though it is not one of the strongest songs on Folklore, the bridge stands out with its figurative language: "And it's hard to be at a party when you feel like an open wound".
"Illicit affairs" details a secret relationship that ends in disaster. It has a very soft chord progression, which adds to the simple beauty of the sweet yet sad lyrics such as "For you I would ruin myself a million little times".
The next track, "Invisible String", stands out because it seems to be the only true love song on the album. To match the title, guitar takes center stage with calculated pulls on the strings. The song uses the metaphor of an invisible string being what ties two people together in a relationship, making them unable to stay apart and ultimately be destined for one another. Imagery is used to convey the many colors and settings referenced, such as "Green.. of the grass.. at Centennial Park" and "One single thread of gold tied me to you".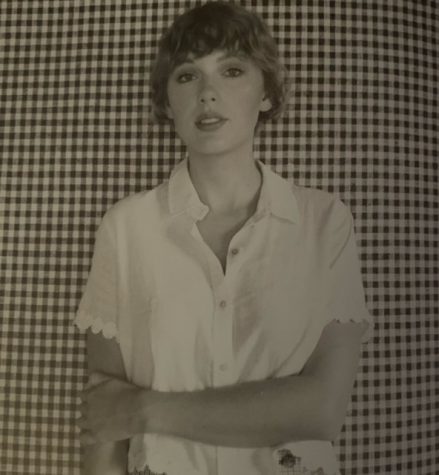 "Mad Woman" seems to correlate with the ideas of a mad or crazy woman referenced in "The Last Great American Dynasty". It creates a dark mood laced with anger that comes from being constantly scrutinized and labeled as crazy or dramatic just for being a woman. Speculation has arisen that throughout the song, Swift references Scooter Braun, who was responsible for purchasing her masters without her consultation. Lyrics such as "Cause you took everything from me" and "You made her like that" add to the theory. Overall, this song radiates power and the refusal to accept unfair treatment. It has certainly shown Taylor's growth and release from her repression of how she truly felt to maintain her good quiet girl image. It doesn't quite fit the vibe of the rest of the album, but I still think it earned its place within the work.
Song number 13, "Epiphany", is certainly unique and connects to the story of Swift's grandfather who fought in WWII. It begins with a dreamy instrumental that is beautifully juxtaposed against the harsh reality of war. "Keep your helmet", "Just a flesh wound", "Sir I think he's bleeding out", and "Some things you just can't speak about" illustrate the story of the uncertainty and darkness of war as well as the hope that made it worth fighting for in the first place. This song doesn't make the top 5 of many people's lists, but the story behind it makes it just as special as the rest of the songs on the album.
"Betty" is not only the catchiest song on the album, but also one of the best songs lyrically and production-wise. It is the final song in the teenage love triangle and follows the viewpoint of James. The storyline begins with James reminiscing on how he messed up his relationship with Betty due to miscommunications, which led him to have a relationship with the girl in the song "August". James is begging for Betty's forgiveness at her party, pleading "Would you trust me if I told you it was just a summer thing" and "Will you kiss me on the porch in front of all your stupid friends". In the song "Cardigan", Betty says "I knew everything when I was young whilst in "Betty", James states "I'm only seventeen I don't know anything". This connection shows the difference in maturity of the two, which is a common theme in teenage relationships. It perfectly captures the thrill, heartbreak, and hope of rekindled young love, making it a top contender on the album.
The last two songs, "Peace" and "Hoax" are the least memorable, but still are enjoyable to listen to. "Peace" emits a level of maturity that comes from learning how to love, as the narrator understands that though she cares for the person, it is not enough to keep them together. She questions this, asking "Would it be enough if I could never give you peace?". This song is less likely to resonate with Swift's younger fans, who may find themselves relating to "Betty" or "August" more.
"Hoax" has a gentle beat that contrasts the portrayal of a difficult yet passionate love. Though Swift sings "You have beaten my heart", the narrator still believes in the "hoax" of their love. This incapsulates staying in a relationship even when the other person is no longer faithful and is doing more harm than good. Balaji noted how the lyrics in this song stood out to her, as they "conveyed the feelings of heartbreak" which worked well "paired with the music".
Now for the awaited ranking of the songs. From favorite to least favorite: Mirrorball, August, Betty, Cardigan, Seven, This is Me Trying, Illicit Affairs, Invisible String, The Last Great American Dynasty, My Tears Ricochet, Exile, The 1, Mad Woman, Epiphany, Hoax, Peace.
Every song on Folklore presents its own unique story that makes them worth listening to. I could not label a single one of them as "bad". The beautiful lyrics, carefully-crafted metaphors, and gentle chords make this one of Swift's best albums.
About the Contributor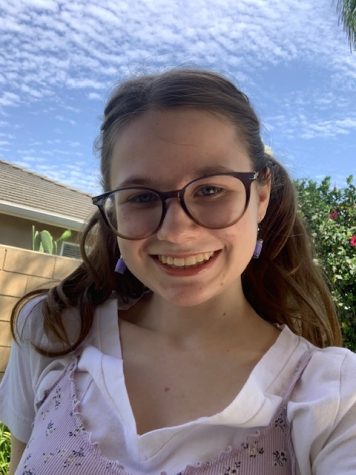 Lindsey Blake, Journalist
Lindsey Blake is currently a senior at ERHS. This is not her first time taking a journalism class, as she was involved in the student newspaper during...