Ruth Bader Ginsburg: Her Life, Death, and Impact
On September 18, Supreme Court Justice Ruth Bader Ginsburg (RBG) passed away in her Washington D.C. home due to complications from metastatic pancreatic cancer. She was 87 years old. A vigil was held that night at the Supreme Court Plaza in Washington D.C., and she is expected to lie in repose for two days at the Supreme Court building.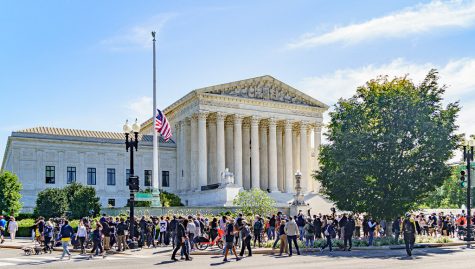 This was not her first time battling cancer, as she had been diagnosed with colon cancer, which was in remission by 1999, as well as early-stage pancreatic cancer in 2009. She had an operation to put in a stent in 2014. In December 2018, tumors were found in her lungs. In total, she had five fights with cancer and never once let it make her miss a day on the bench.
This has led many Americans, such as ERHS student Kenneth Victoriano, to think of her as "absolutely a fighter" because she remained fighting for equality "despite facing insurmountable tasks".
She was known not only for her fiery spirit on the courts, but also her fighting nature towards life, as she didn't let anything stop her, not even cancer.
Throughout her many years as a lawyer, research associate, professor, member of the U.S. Court of Appeals, and Supreme Court Justice, she focused much of her time on women's rights and equality. She played a large role in the Supreme Court case Obergefell v. Hodges, which declared denying same-sex marriage unconstitutional.
According to ERHS AP government teacher Troy Pourchot, RBG was an "outspoken proponent of gay marriage" and is one of the major reasons that "same-sex marriage is legal in all 50 states today".
At the beginning of her career in law, she faced difficulties with employment due to her gender. She was also paid less than her male colleagues and was one of less than 20 female law professors at the time in the U.S. Her own experiences with discrimination likely played a key factor in her desire to make sure other women would never have to go through what she did in the future.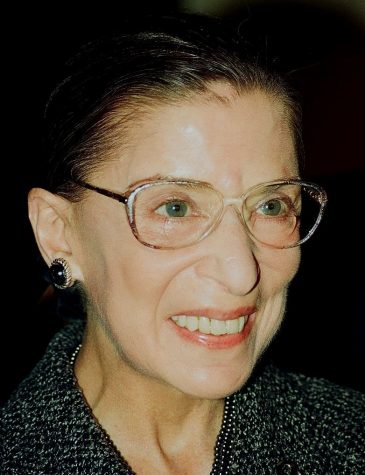 Ginsburg co-founded the Women's Rights Project at the American Civil Liberties Union in 1972 where more than 300 gender discrimination cases were taken on by 1974. Before even serving on the Supreme Court, she argued six gender discrimination cases before them and won five. Her work allowed for many laws that permitted gender discrimination to end.
President Bill Clinton nominated her as an Associate Justice of the Supreme Court in 1993. He wanted to diversify the court, which he achieved by nominating a Jewish woman. She was the second woman to serve on the Supreme Court and the first Jewish woman. She was the longest-serving Jewish Supreme Court Justice.
Throughout her lifetime, RBG made an immense impact for so many Americans. Her position as a Supreme Court Justice allowed her to partake in many major court decisions such as United States v. Virginia (1996), which declared Virginia Military Institute's male-only admissions policy as unconstitutional. ERHS student Kenneth Victoriano described her as the "embodiment of American spirit".
Not only is her death incredibly tragic, but it is also incredibly significant politically with the election coming up in less than two months. There is now a vacancy in the Supreme Court, and it is uncertain when it will be filled. President Trump has conveyed with urgency that he believes it is necessary to fill her spot as soon as possible. Presidential candidate Joe Biden believes that her successor should be decided on after the election.
The Supreme Court now has 5 Republican appointed justices and 3 Democratic appointed justices, as RBG was appointed by a Democrat.
President Trump is currently working towards making a selection of a conservative he would like to nominate to take Ginsburg's place. If his nominee is successful in gaining a simple majority vote in the Senate, then the 5-3 Republican lean would become 6-3.
Unlike other political positions in the executive and legislative branches of the U.S. government, the term for a Supreme Court judge is life-long, unless they retire or are impeached. Depending on the age in which they enter the position, they can be serving on the Supreme Court for over 20 years.
Pourchot noted that the decision regarding the new Supreme Court Justice "will most likely impact modern history for the next couple decades".
Concerns have been raised over whether or not certain court decisions such as Roe v. Wade, which protects women's rights to abortions, could be overturned with the absence of RBG who played a big role in fighting for them. Trump did promise his supporters that his nominee would overturn Roe v. Wade, but it is difficult to predict who will receive the spot and what they will do with their newfound power.
RBG's granddaughter, Clara Spera, stated that days before she died Ginsburg said "My most fervent wish is that I will not be replaced until a new president is installed". Only time can tell whether or not her final wish will come true. Another wish RBG had was for a Supreme Court of all women to become a reality. When asked when there would be enough women on the bench, she declared "When there are nine".
True to her deepest values of gender equality even until the very end, her legacy will live on in the many lives she impacted through her work. Without Ginsburg, women wouldn't be able to enjoy many of the liberties they have today.