Live action Mulan releases on Disney Plus
Hey Mustangs and Disney fans out there!
Have you seen the latest movie on Disney Plus? If not, better check it out because you're missing out. After months of delay because of the COVID-19 pandemic, producers have finally released the remake of Mulan last September 4, 2020. Not in cinemas but on the subscription video-on-demand streaming service, Disney Plus, and with an extra fee.
Mulan is a fearless Chinese girl who disguises herself as a man to save her father from battling the Huns. Throughout Hua Mulan's journey, her abilities and weaknesses are tested. It wasn't an easy journey but in the end, she became a true warrior. The nation honored Mulan. Mulan's family, especially her father was proud of her achievements.
The live-action Mulan will not be the same as the original Mulan as it won't have the songs and even the Chinese dragon guardian of Mulan, Mushu. The producers wanted the live-action to be more real and more relatable.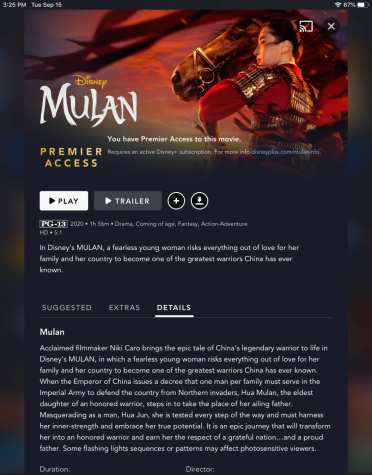 I interviewed two friends of mine, one who has not and has seen the movie. "I expect this new Mulan's storyline to be almost parallel to the old version since it was one of my favorite Disney movies," said Roland Ocampo, a junior. "In the part of not incorporating the songs and Mushu in the movie, I'm kind of disappointed because Disney is not Disney without those songs," he added. I also asked Agatha Limpo who has seen the movie about her thoughts on the movie, "I liked that the producers and writers actually put consideration and used this live-action version introduce and straighten up that story-based on the ballad." I asked her about the story line and she said, "The other part of me, who is a Disney fan, was a little disappointed because the story was quite far from the actual animated version that's fun, childlike, and fun." We have our own opinions and there's no problem whether it's positive or not.
Make sure you watch Mulan and let your inner warrior shine!